"One time, in South America, there was an earthquake while they were on the wire, and they stayed up… In Fort Worth the lights went off for several seconds, which is an eternity when you're up there. And when the lights came back, they were still doing the seven."
"The Seven" is shorthand for one of the more famous tricks in circus history: the seven-person wire-walking pyramid of The Flying Wallendas. It's an old-fashioned circus act of straight-up strength, balance and danger.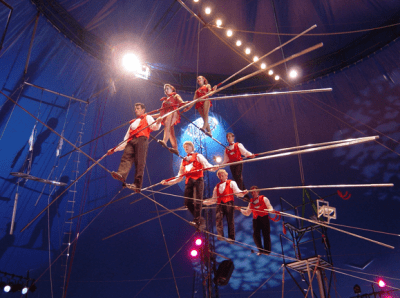 The Seven is the family's signature act, and also its nemesis: two Wallendas were killed, and a third paralyzed for life, when the pyramid collapsed in a 1962 show. Undaunted, the Wallendas brought the act back the next year. They have performed it only sporadically since then, but the family is now in its eight generation of wire-walkers.
A new documentary about the Wallendas, directed by Paula Froehle, is called The Show Must Go On. The NY Times has the scoop.
See our basic biography of The Flying Wallendas »