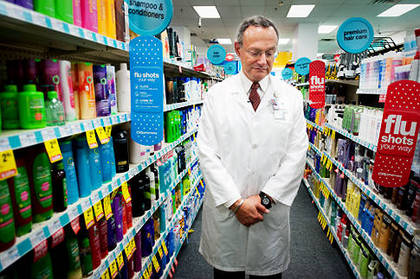 Surely this will be the strangest photo to come out of the 30th anniversary of John Lennon's death.
"Dr. Stephan Lynn stands in the shampoo aisle of CVS, which used to be the
emergency room of Roosevelt Hospital, and the spot where John Lennon was
declared dead."
Dr. Lynn, then just 33, was the emergency room doc on the job when John Lennon was brought in after being shot by Mark David Chapman.  Here's the full story (now archived) from The NY Daily News.
(Photo: Warga / Daily News)