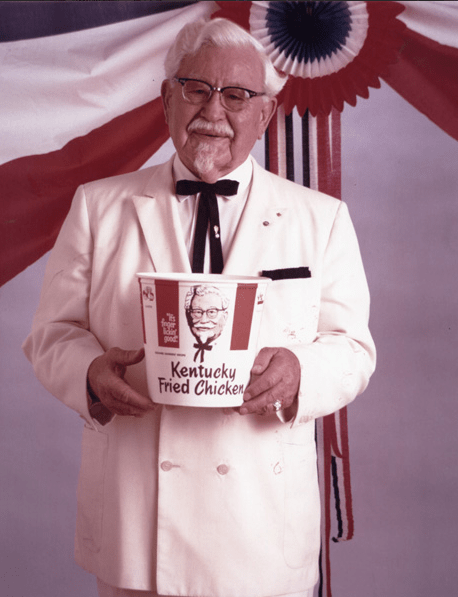 "The Colonel had this light pink '57 Cadillac Coupe DeVille with a General Motors Frigidaire air conditioning unit… Every spring from about 1961 to 1964 the Colonel brought his '57 to dad. [I] would hook up the vacuum pump, evacuate the system, then recharge it. The Colonel would stay about an hour each time. He would mostly be wearing shorts and a Hawaiian shirt, not the white suit, on those days."
A fan's entry from ColonelSanders.com, a very clever website from KFC. They're crowdsourcing their corporate bio of their founder, Colonel Harland Sanders, inviting plain folks to send in their memories and photos.
Of course the Colonel comes out looking grand. Or at least, interesting. Here's a tale from the launch of a franchise in the dead of a North Dakota winter:
"Up drives this Rolls Royce with that gold Kentucky Fried Chicken lettering on the doors. I began to think this is a little over the top. To think that a man from Kentucky, remember it's warm in Kentucky even in the winter, would brave the sub-zero temperatures to stand outside the window to welcome and shake hands with everyone who drove through was something to behold. There he stood in his big ole furry parka, with his now familiar white hair, moustache and goatee, smiling and talking to everyone who drove through."
So far we've got The Colonel rocking a pink Caddy and a Rolls Royce with gold lettering. But he was just getting started:
"In 1970 or 71, Col. Sanders came to the St. Louis area and wanted to meet some of the area managers and owners. The owner and one other manager and I went over and met with him in his motor home in St. Louis. To say he was a 'colorful' and amusing gentleman is an understatement."
And there's more!
"I met the Colonel when he did business with my employer, Grainger's. He inquired about exhaust fans for use at his franchises. I showed him several and he purchased two. We loaded them in his car which was an old funeral car. He had removed the jump seats and the rear seat and used it as a way to haul things around."
Hawaiian shirts, hearses and the gift of gab: Colonel Sanders is sounding less like a corporate icon and more like The Dude from The Big Lebowski. Or maybe he was John Goodman's crazy hothead:
"It was in the test kitchen that the Colonel's famous gravy (made from "cracklins") was undergoing a more modern pre-packaging test. Being the perfectionist he was and known for being a bit salty, he would taste the concoction being tested and if not happy, the Colonel would throw the pot on the floor with a few choice words."
The Steve Jobs of fried poultry!
The lesson, as always: don't mess with a Colonel in a Cadillac.
See our biography of Colonel Sanders »