Maybe it didn't exactly rock Dublin, but Christ Church Cathedral had a break-in over the weekend. The thief made away with just one item: a 900 year-old heart.
The heart belonged to St. Laurence O'Toole (or, if you prefer, Lorcan Ua Tuathai). He was a patron saint of Dublin who lived from about 1128 to 1180. He was canonized by Honorius III in 1225.
St. Laurence built abbeys and nunneries in Ireland, made good with England's King Henry II (better known as husband to Eleanor of Aquitaine) and was known for his piety.
They say he wore a hair shirt, a rough cloth garment as a form of penance and a way to resist the temptations of a flesh — because, hey, who wants to go dirty dancing in an uncomfortable blouse?
Long after he was buried, they say his body "disappeared in the Reformation under the rule of Henry VIII."
Somehow his heart ended up in Dublin. It was placed in a heart-shaped box. Did they put Einstein's brain in a brain-shaped box? I don't think so. Anyway, they put the box inside a metal cage and bolted it to the wall in Saint Laud's Chapel, inside Christ Church Cathedral in Dublin. I've been there, and I recommend it.
Police think somebody hid out in the church last Friday night, then broke through the cage and stole St. Laurence's heart (box and all). Out and gone by Saturday lunchtime. And that's all that was stolen.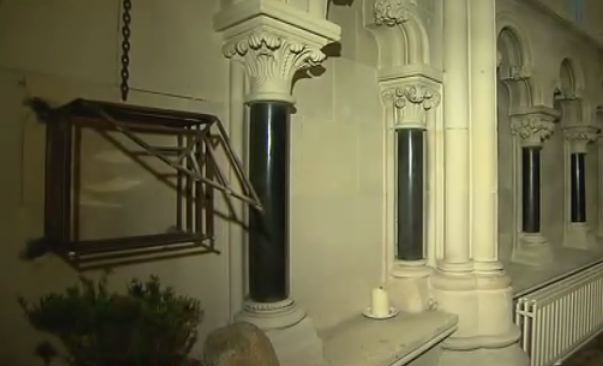 If someone approaches you and claims to be able to get you a "good deal" on a 900 year-old saint's heart, be wary. It's probably stolen.
For more, here's a video report with before and after photos.
Here's another report from Catholic Online.