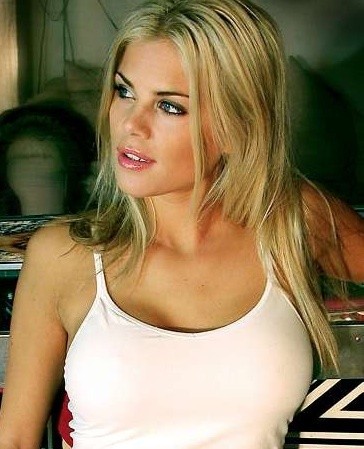 "We are sad that our marriage is over and we wish each other the very best for the future."
Tiger Woods
and
Elin Nordegren
, speaking from beyond wedlock in their divorce announcement today.
The Orlando Sentinel says that Elin filed the divorce petition just this morning in Panama City, Florida, and that it became official when Tiger Woods waived a 20-day waiting period. They will share parenting of their children. People.com speculates that Elin will get between $100 million and $500 million in the settlement.
The divorce statement seems to indicate that Elin Woods is going back to her maiden name of Elin Nordegren. Here's the full statement, as released by the lawyers:
McGuireWoods LLP, counsel for Elin Nordegren and Sasser, Cestero and Sasser P.A., counsel for Tiger Woods, make the following announcement:

Elin Nordegren and Tiger Woods confirmed today that they have divorced. Judgment was entered today in Bay County (Florida) Circuit Court dissolving the marriage. The Judgment provides for shared parenting of their two children.

Ms. Nordegren and Mr. Woods issued this joint statement:

We are sad that our marriage is over and we wish each other the very best for the future. While we are no longer married, we are the parents of two wonderful children and their happiness has been, and will always be, of paramount importance to both of us. Once we came to the decision that our marriage was at an end, the primary focus of our amicable discussions has been to ensure their future well-being. The weeks and months ahead will not be easy for them as we adjust to a new family situation, which is why our privacy must be a principal concern.

Ms. Nordegren was represented by McGuireWoods attorneys Richard Cullen and Dennis I. Belcher in Richmond, Scott S. Cairns in Jacksonville and Walter H. White, Jr., and Josefin Lonnborg in London, assisted by Rebecca Palmer of Lowndes, Drosdick, Doster, Kantor & Reed, P.A. Thomas J. Sasser of the West Palm Beach, Florida firm of Sasser, Cestero and Sasser P.A., and Peter T. Mott of the Southport, Connecticut firm of Brody Wilkinson, P.C., Mr. Woods' long time general counsel, represented Mr. Woods.
That's quite a roll of credits from the lawyers at the end, there. Who was the gaffer?
Well, good luck to both parties. Here are more photos of Elin Nordegren and Tiger Woods.