[Note: Posted in October 2010]
"Mistah C, he dead."
Actor Tom Bosley has died at a hospital near Palm Springs, aged 83. The cause was heart failure, although he also had lung cancer, according to his agent.
Tom Bosley played iconic dad Howard Cunningham — "Mister C" to one and all — on the hokey 1970s TV series Happy Days. (That's him top center above.) Bosley was "the patient, understanding father" on the show, says the Associated Press obituary.
Bosley was a prolific TV actor. He also played a crime-fightin' priest (just like Robert Blake!) on The Father Dowling Mysteries (1987-91) and an easygoing sheriff on Angela Lansbury's show Murder She Wrote from 1984-88. His run on Happy Days lasted 11 seasons, from 1974-84.
(That's Bosley in an episode of Murder, She Wrote, with Angela Lansbury (center) and his old Happy Days co-star Erin Martin.)
Never a one-trick Bosley, he also won a Tony Award when he played New York mayor Fiorello LaGuardia in the Broadway play Fiorello! in 1959. Bosley was also in the original Broadway cast of Beauty and the Beast in 1994 as Maurice, the dotty old dad of the beauty Belle. All that show did was run for 5461 performances, though Bosley had left long before that.
Here's Bosley more recently, with his wife at the Palm Springs Film Festival in 1998: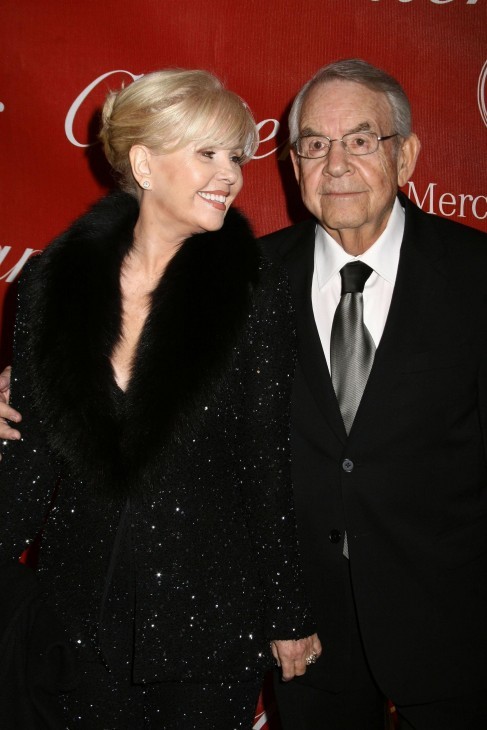 Tom Bosley never jumped the shark — but he was there when it happened.
(Final photo courtesy of Adriana M. Barraza / WENN; all other photos courtesy of WENN. 'Heart of Darkness' reference courtesy of T.S. Eliot.)