Walter Becker — guitarist, composer, prankster, cynic and co-founder with Donald Fagen of the group Steely Dan — has died at age 67.
No cause of death was announced, but Fagen did acknowledge to Billboard.com last month that Becker had been ill:
Becker missed both of Steely Dan's performances during the recent Classic West and Classic East concerts in Los Angeles and New York. Fagen told Billboard during a conference call about the Nightflyers tour that "Walter's recovering from a procedure and hopefully he'll be fine very soon," but did not elaborate on Becker's surgery or prognosis.
Walter Becker had struggled with drugs in the past, notably during the 1980s when he retreated to Hawaii while dealing with the breakup of Steely Dan and any number of personal issues:
It started to go badly wrong in January 1980. Becker's girlfriend, Karen Stanley, died of a drug overdose in his apartment on the Upper West Side. (Some versions of this story claim that Stanley was underage, which is untrue. As Brian Sweet, Steely Dan's biographer, points out, Stanley's name appears in credits on early Steely Dan albums.) A year later, Stanley's mother attempted to sue Becker for [$17 million]. Becker threatened to counter-sue and the case disappeared.

Meanwhile, in February 1980, Becker had walked into the path of an oncoming taxi in Central Park. 'We were quantum criminals,' Becker claims. 'The car and I were attempting to occupy the same place at the same time.' He was in a wheelchair for much of the mixing of Gaucho and on another planet much of the rest of the time. Later, Fagen spoke of the pair's need for 'a vacation' from one another, but it was clear that Becker was in a state beyond collaboration.
But things had gone wonderfully right for Becker and Fagen since they got back together in 2000 with the album Two Against Nature. It won the Grammy for album of the year, and in 2001 Steely Dan was inducted into the Rock and Roll Hall of Fame. From their Rock Hall bio:
Beneath the highly polished surface of Steely Dan's music, astute listeners could hear a visceral love of and identification with the very soul of jazz. Fagen and Becker referenced Duke Ellington, Stan Getz and Horace Silver at least as much as any rock-oriented source material. Even so, there was a certain accessible quality to songs like "Reelin' in the Years," "Do It Again" and "Rikki Don't Lose That Number" that allowed Steely Dan to connect with rock fans, especially those who were college-aged and –educated.
True dat. Since that 2000 reunion, the band has toured often (if not quite annually), sometimes on their own and sometimes on "oldies" bills with bands like the Eagles and the Doobie Brothers: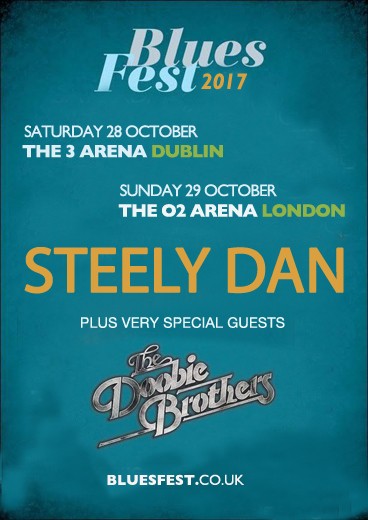 The Eagles connection is amusing, given that Steely Dan had given them a jab with the lyrics "Turn up the Eagles, the neighbors are listening," in their single "Everything You Did." That was classic Becker/Fagen wit and drollery.
Becker played guitar and bass on every Steely Dan album (though not every song) and he and Fagen were the two real members of the band no matter how many other players came and went. Their first album was Can't Buy A Thrill (1971) and their last was Everything Must Go (2003), but they had released compilation albums including The Very Best of Steely Dan as recently as 2009.
Donald Fagen has released a statement about Walter Becker's death:
Walter Becker was my friend, my writing partner and my bandmate since we met as students at Bard College in 1967. We started writing nutty little tunes on an upright piano in a small sitting room in the lobby of Ward Manor, a mouldering old mansion on the Hudson River that the college used as a dorm.

We liked a lot of the same things: jazz (from the twenties through the mid-sixties), W.C. Fields, the Marx Brothers, science fiction, Nabokov, Kurt Vonnegut, Thomas Berger, and Robert Altman films come to mind. Also soul music and Chicago blues.

Walter had a very rough childhood — I'll spare you the details. Luckily, he was smart as a whip, an excellent guitarist and a great songwriter. He was cynical about human nature, including his own, and hysterically funny. Like a lot of kids from fractured families, he had the knack of creative mimicry, reading people's hidden psychology and transforming what he saw into bubbly, incisive art. He used to write letters (never meant to be sent) in my wife Libby's singular voice that made the three of us collapse with laughter.

His habits got the best of him by the end of the seventies, and we lost touch for a while. In the eighties, when I was putting together the NY Rock and Soul Review with Libby, we hooked up again, revived the Steely Dan concept and developed another terrific band.

I intend to keep the music we created together alive as long as I can with the Steely Dan band.
For much more on Walter Becker, see his Rolling Stone obituary.