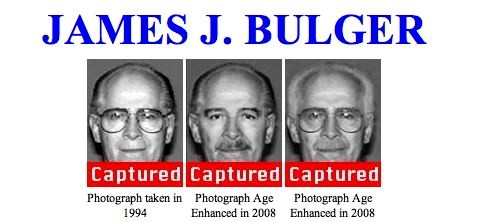 The Los Angeles Times is reporting that Whitey Bulger has been arrested.
James "Whitey" Bulger is the Boston mobster who's been on the run since 1995. He's been one of the FBI's Ten Most Wanted, with a reward of $2 million. Until just recently, his was the second-highest reward offered.
The top spot used to belong to Osama bin Laden.
Not that Whitey Bulger is connected in any way to Osama bin Laden. Bulger was a Boston crime boss and FBI informant during the 1970s and 1980s. He's said to be the inspiration for the character Jack Nicholson played in the Martin Scorsese film The Departed.
Bulger has been wanted for the last 16 years for his part in 19 murders, among other things. He's 81 years old.
That's the second Most Wanted criminal knocked off the list this year. That's pretty good. Or, some folks might say it's only 20%.
Read the Who2 biography of James "Whitey" Bulger.
Update:
Here's the FBI television ad that helped capture Whitey Bulger: