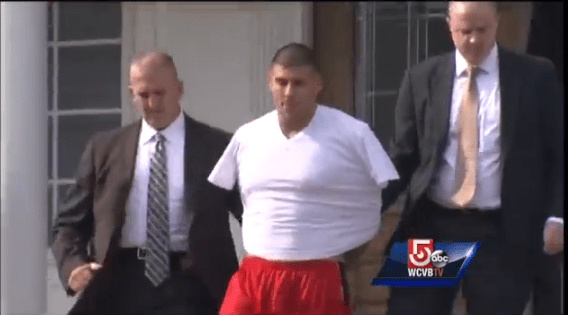 Our Aaron Hernandez biography is now live.
Aaron Hernandez is the tight end for the New England Patriots who was arrested and charged yesterday with the execution-style murder of Odin Lloyd. It is a shocking story: The two had been friends, but the District Attorney now accuses Hernandez of picking up Lloyd early on the morning of June 17th, taking him to an industrial park, and shooting him to death.
If you haven't yet seen this video of Aaron Hernandez arrested and being led away, you probably weren't watching TV in the last 24 hours. Hernandez was denied bail again today, and will be tried on charges of first degree murder and a handful of related gun charges.
As terrible and bizarre as the story already is, it's getting worse: now the Boston Globe is reporting that law enforcement officials suspect Hernandez of being connected to a double murder in Boston last summer. Unbelievable.
See our full Aaron Hernandez biography »