A new record was set for a painting sold at auction. The old record was $106.5 million for Picasso's Eats Chutes and Leaves Nude, Green Leaves and Bust. The new record is $119,922,500.
A Norwegian businessman sold his copy of Edvard Munch's The Scream, a pastel-on-board version, at Sotheby's this week for that amount, according to Art Daily. Edvard Munch was a Norwegian artist who died at the age of 80 in 1944.
Norwegian museums already have versions of Munch's most famous painting, so they were okay with this one being sold from private owner to (unnamed) private owner. That's a lot of money for an image you can see just about any place and on any thing. I'm certain I could buy about 8 million coffee mugs with nearly $120 million. If given the chance.
Here's The Scream (1893):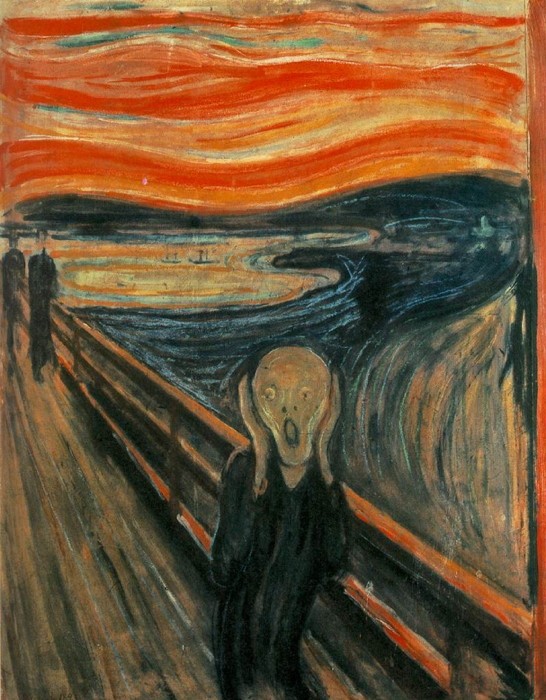 It's not my favorite Munch painting. That would be the painting commonly known as Vampire (1893):
I also like The Sick Child (1885):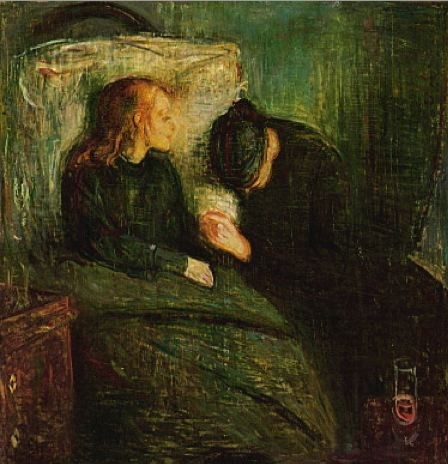 The Sick Child reminds me of the Peter Watkins film from 1974, Edvard Munch, which certainly captures the spirit of Munch's dreary existence. After repeated viewings it's possible to break through the fact that the movie is boring and depressing, and you can realize its brilliance.
(Main photo: Madeline Wilson from the National Gallery of Victoria mimics the scream from Edvard Munch's famous hand-coloured lithograph version, William West/AFP/Getty Images)