In 1970, jazz pianist Bill Evans sat down to play in the Helsinki living room of composer Illka Kuusisto.  The result: this beautiful rendition of the tune "Alfie."
"Alfie" begins at the 11:20 mark. Eddie Gomez is on bass, Marty Morell on drums. The three played as the Bill Evans Trio from 1968-75, and toured Finland in 1970. That's when this was shot for Finnish TV.
Illka Kuusisto was a classically-trained organist and composer who was the conductor at the Helsinki City Theater and later general manager of the Finnish National Opera. He was born in 1933, four years after than Evans. (Judging from this 2011 photo, I believe he's the young blonde man with the boy at the start of the clip.)
What a room. Talk about a Scandanavian scene.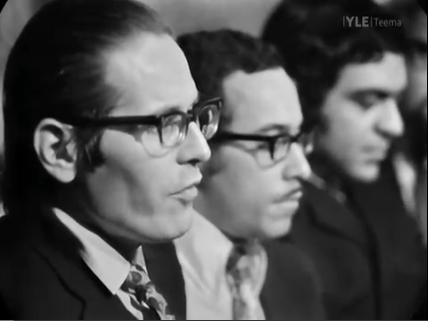 Bill Evans turned 41 that year and was near the height of his powers. Just over a decade had passed since he played on the landmark 1959 Miles Davis album Kind of Blue.
His comments at the start are just great:
"Jazz is a certain process that's not an intellectual process. You use your intellect to take apart the materials and learn to understand them and learn to work with them… but actually it takes years and years and years of playing to develop the facility so that you can forget all that… and just relax and just play."
After the interviewer compares the Evans's "pruning down" process to that of writer Ernest Hemingway, the pianist demurs:
"I don't like obvious embroidery… I do like to state things as clearly as I can, as concisely as I can. I don't like to make people work hard to understand what I'm doing, or myself either. If you can say it easy, why make it hard?"
Why indeed?
As it happens, JazzWax is just running a terrific three-part interview with Marty Morell about his years with Bill Evans. (Part 1 and part 2 are live so far.)
JW: Did Evans have any critical feedback after your first gig?

MM: No. He said everything was perfect. Bill let you find your own way. He did tell me months later, "You may want to add a third cymbal to offset behind the bass." So I did. I added a bigger one, what's called a China splash cymbal. It has a sizzling sound.
Is that the China splash at Morell's right hand in this clip? Seems like you can hear the sizzle.
YouTube also has video of the trio playing "
Nardis
" and "
Emily
" from this same living room session. But "Alfie" is the winner for me.