Evangelist Billy Graham was sent to the hospital last night with what looks like pneumonia:
A statement from the Billy Graham Evangelistic Association said Graham was admitted Wednesday morning to Mission Hospital for respiratory problems. It's Graham's fifth hospital stay since 2007. In May, he spent five days at Mission, also for pneumonia.
Once you hit 90, any hospital visit becomes a news item, as Nelson Mandela and Zsa Zsa Gabor can attest. But don't bet on Rev. Graham checking out anytime soon. Just look at that jaw: The Grim Reaper would have to deliver a haymaker to take him out. This is the sturdy guy who has met with every president since Harry Truman, after all.
He kept up the string by meeting with Barack Obama in 2010, although given Graham's health, he couldn't make it to the White House. Obama came to the mountain.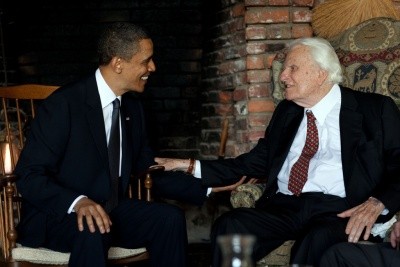 Obama was president #12, so Billy Graham has now met with 27.9% of the 43 U.S. presidents. That's counting Grover Cleveland only once, if you're doing the math.
And no, Billy Graham didn't meet Grover Cleveland. Graham was born in 1918, during the administration of Woodrow Wilson. (Amazing!) But we're betting that Billy Graham will still be around to greet president #13, whether that's in 2013 or in 2017. He'll only turn 99 that year, after all. And getting to 13 presidents out of 44 would put him at 0.29545 — statistically 30%!
The life expectancy of a 90-year-old white male is 4.1 years, according to the CDC. For a 95-year-old, it's 2.9 years. That means if Rev. Graham can make it to the end of 2013, he's practically home free.
Also, presumably, he has God on his side. Since 1950, when he first met Truman, Billy Graham has lived through six popes and three Patriarchs of Constantinople. He's also outlasted nine presidents of the Mormon church. (Just looking ahead in case Mitt pulls it out.)
It's true that Reverend Graham doesn't travel much of anywhere now, but he's keeping busy:
In October, he released his 30th book, "Nearing Home," on growing old and finishing life well. His son, evangelist Franklin Graham, described his father at the time as active, engaged, but limited by his age and his failing hearing and sight.
We should all be so lucky. Go for the 30%, Reverend!
See our full biography of Billy Graham »