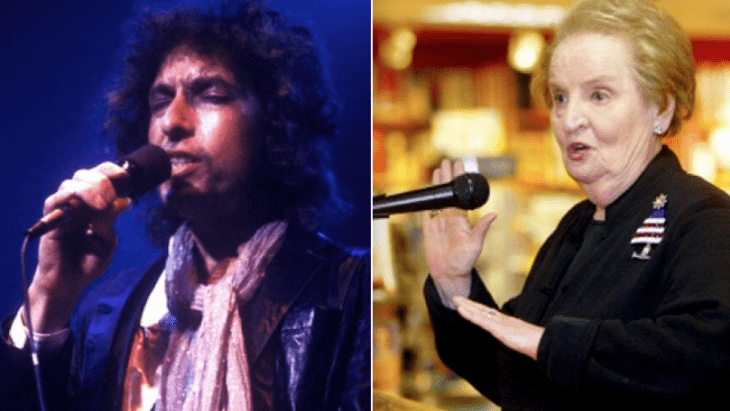 They won't actually sing, no. But they'll be in the spotlight together when they both get the Presidential Medal of Freedom from President Barack Obama.
Madeleine Albright was a rock star as the first female Secretary of State:
"[She] pursued peace in the Middle East and Africa, sought to reduce the dangerous spread of nuclear weapons, and was a champion of democracy, human rights, and good governance across the globe."
Bob Dylan has been a champion of good groove across the globe:
"Known for his rich and poetic lyrics, his work had considerable influence on the civil rights movement of the 1960s and has had significant impact on American culture over the past five decades."
Albright was born in Prague in 1937; Dylan was born in Duluth in 1941. Otherwise they're almost exactly alike.
The awards will be given later this spring. Among others receiving the Presidential Medal of Freedom in 2012: astronaut John Glenn, poet Toni Morrison, Supreme Court justice John Paul Stevens, three-time Israeli prime minister Shimon Peres, and basketball coach Pat Summitt.