French artist Christo has been given the go-ahead to put six miles of fabric across Colorado's Arkansas River. Sounds crazy, right? But maybe not.
Bulgarian-born Christo is famous for grand-scale exhibits like wrapping the Reichstag in fabric, building a 25-mile fabric fence in California and adorning New York's Central Park with 7500 fabric "gates."
Since 1992 Christo and his partner, the late Jeanne-Claude (she died in 2009), have planned the project called Over The River. Over a 42 mile stretch of the Arkansas River, the plan is to create a canopy of 8 panels of fabric totalling 5.9 miles. This will take more than two years to construct; it will be open to the public for two weeks before being dismantled.
You can read all the details on Christo's official site, and see several drawings of the proposed project in a gallery of sketches.
You can read the announcement from the Bureau of Land Managment that gives Christo permission right here.
You can also follow the opposition to the project (which sounds as though it's a 98% done deal). There's Rags Over the Arkansas River, who have a problem with two years of construction on their local roads, and there's Christo's Real Plan, which also complains about the construction, but whose main beef seems to be "All this for the ego of one man, someone who is not even a Colorado citizen."
According to Christo and the U.S. government, his proposal takes into account wildlife considerations — the river is a watering hole for bighorn sheep, for example — and Christo, like always, is financing the project out of his own pocket, to the tune of $50 million.
I don't have that kind of scratch, but I have a camera and some things within reach and just the tiniest bit of Christo in me, so I created this Christo-like art vision, which I call "Jar Jar Binks in a Kit-Kat Wrapper":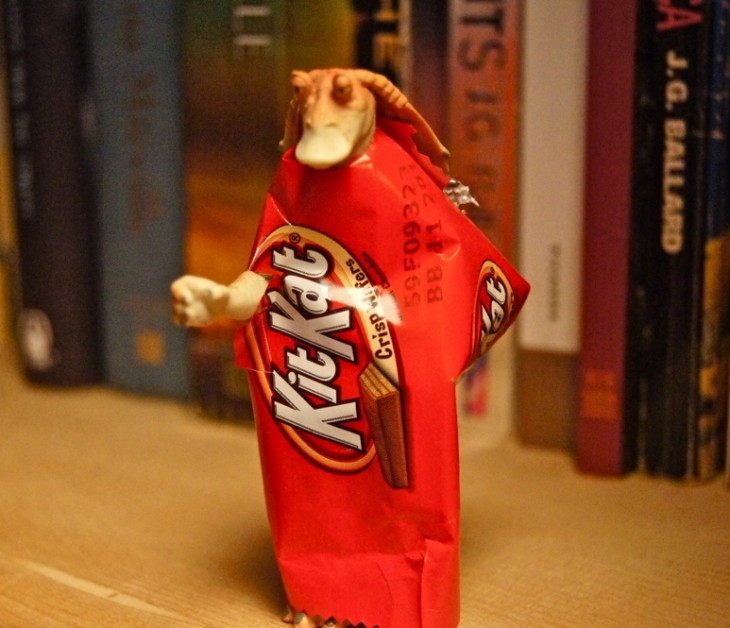 I'm almost certain this has never been done before. By me, I mean. You could say it's all for the ego of one man, and I'm not even a Colorado citizen.
For more about Christo's project, there's this story from the New York Times, and this short bit from Art Daily.
As always, you can find out more about the artist from the Who2 biography of Christo.