Time flies and Laura San Giacomo is 50 years old.
She was born on 14 November in 1961 and she's had one of those strange low-boil Hollywood careers: she sticks around in the background like a character actor but gets roles like a lead.
Laura San Giacomo was 27 when she starred in sex, lies and videotape, the indie film which was a huge hit in 1989 but is remembered in name only now. (Anyone Netflix it recently?) As Cynthia, the sister having an affair with sleazy Peter Gallagher, she was very attractive indeed. That right there is where she should have become a big star, but it didn't happen.
Next year she was Julia Roberts's good-natured hooker chum in Pretty Woman. That was an absurd film that should have killed the careers of everyone involved, but somehow didn't. Instead San Giacomo got what looked like her big break as the love interest in Quigley Down Under, the film that was going to be Tom Selleck's big-screen breakthrough after Magnum, PI ended in 1988. (We're going back a ways here.) But the film didn't click and, as ingenue roles go, it was probably a bad sign that her character was named Crazy Cora.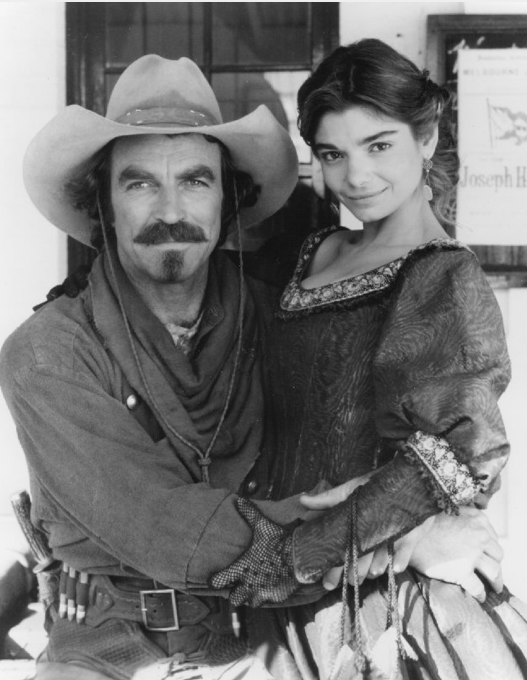 Still, they look great, right? There's something wrong with a Hollywood where Julia Roberts becomes a mega-star and Laura San Giacomo gets the Crazy Cora parts. (To rephrase Jack Warner's line about Ronald Reagan, "No, no: Laura San Giacomo for warm-hearted hooker. Julia Roberts for best friend.")
Aside: With those looks, how did Tom Selleck not become a movie star?
After Quigley it was a jumbled closet of forgettable films like Where the Day Takes You and Stuart Saves His Family (with future U.S. Senator Al Franken!) until San Giacomo landed her signature role in Just Shoot Me as the smart and long-suffering journalist surrounded by fashion airheads. The series ran for seven seasons (1997-2003) and spun her career into TV land, seemingly for good. She made appearances on Veronica Mars and The Defenders and had a healthy 46-episode run as Holly Hunter's best friend on Saving Grace (2007-10).
So she's a creature of TV now, like Selleck. (And like other Italian-Americans from New Jersey.) San Giacomo seems happy to stay near Los Angeles and on the small screen, possibly because she has a son with cerebral palsy. But now that she's 50, here's hoping she lets her hair down and starts playing some of the Walter Brennan-type film roles that can be so much fun for actors in their second half-centuries. If she's going to endure like a character actor, she might as well get some of their juicy roles.
See our Laura San Giacomo biography »
{Top photo: Nikki Nelson / WENN}