Mr. Schorr and [CNN founder Ted Turner] eventually fell out over a CNN plan to team John Connally, the former Texas governor and Nixon Treasury secretary, with Mr. Schorr as commentators at the 1984 Republican National Convention in Dallas.

It was improper, Mr. Schorr said, to mix a politician with a journalist, and he invoked for the first time [a] 1979 agreement allowing him to veto assignments. The network asked him to drop that right in early 1985, and when he refused, he was told to take leave until his contract expired that May.
From the New York Times obituary of Daniel Schorr, the veteran journalist who died this week at age 93.
These days it can seem like you have to be a current or former politician or political operative to get on TV, from former White House advisor George Stephanopolous on ABC News to former Congressman Joe Scarborough on MSNBC to Newt Gingrich, Sarah Palin, and a long list of others on Fox News.  The latter network is run by political operative Roger Ailes (for a sweet $23 million a year).
Schorr was absolutely right, of course. We're all the worse off to have our "news" and commentary delivered by people who have obvious political agendas — many of whom are angling to get elected again, and all of whom have plenty of sympathy with their parties and their causes. It ain't right.
But Schorr was a rare bird to spot that trend — and stand up against it — 25 years ago.  Good for him.
I didn't know until reading the obituaries that Schorr became the first news employee of CNN in 1979.  I also didn't know he was one of "Murrow's Boys" — the group of aggressive journalists who worked with Edward R. Murrow during World War II and later during his years at CBS News.  Schorr started there in 1953.  Here's a great shot of him from that era: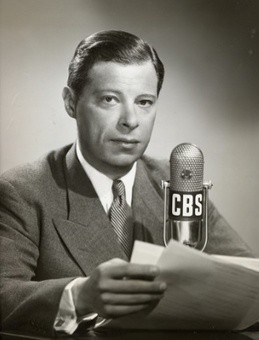 And here's a full obituary and slide show about Schorr from his last employer, National Public Radio.
Thanks for fighting the good fight, Mr. Schorr!