Dr. Sam Sheppard was acquitted of murdering his wife 45 years ago today, after he'd spent nearly a decade in prison. A happy ending, right? Wrong.
In one of the 20th century's Trials of the Century, Cleveland's Dr. Sam Sheppard was accused of brutally murdering his pregnant wife, Marilyn. He said he didn't do it, and blamed it on a "bush-haired" stranger. The cops didn't like how Dr. Sheppard explained himself, and there was enough circumstantial evidence to proceed with charges against Sheppard.
The press was crazy about the case, and it sounds as though the judge didn't have much control over the carnival atmosphere. Rumors of love affairs on both sides (Sam's and Marilyn's) kept things lively, and a jury convicted Sheppard five months after the murder.
But Sheppard maintained his innocence, and the national attention of the trial brought the interest of celebrity lawyer F. Lee Bailey, who began working for Sheppard's cause in 1961.
They sought to reverse the conviction on the grounds that there was insufficient evidence. Bailey, in Sheppard's second trial, described the prosecution's case as "ten pounds of hogwash in a five-pound bag." It's hard to actually picture ten pounds of hogwash, whatever that is, but I think we all know what Bailey meant.
After nine-plus years in jail, Sheppard was granted the right to a new trial and released.
Fresh out of jail in 1964, Dr. Sheppard married a German woman named Ariane Tebbenjohanns. She had a nine year-old daughter and was the half-sister of Magda Goebbels, wife of Joseph Goebbels, propaganda minister for Adolf Hitler and the famous Nazis of World War II.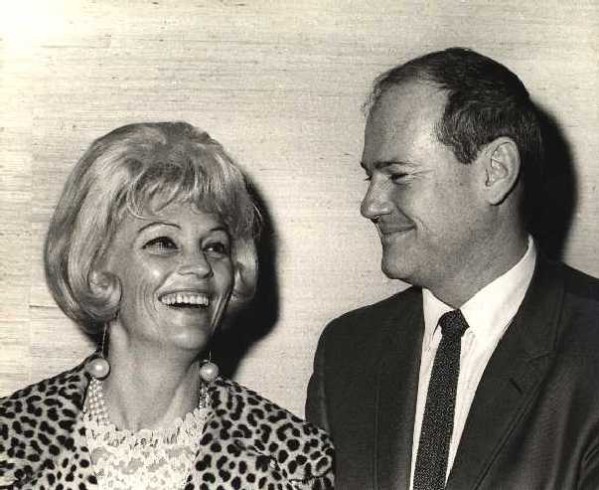 Sheppard and Tebbenjohanns met while Sam was in prison. She wrote letters from Germany, and they got engaged in 1963, while he was still behind bars. They divorced in 1969, but by that time Sheppard was at least free from being prosecuted again for the murder of Marilyn Sheppard.
He was acquitted after his second trial on 16 November 1966, 45 years ago today. By that time, a lot of damage had been done.
When Sam Sheppard was convicted of second degree murder on 21 December 1954, his father was in the hospital with pleurisy. Eighteen days after Sheppard's conviction, his mother, Ethel, shot herself in the head with a .38 caliber pistol. Sheppard's seven year-old son, Chip, was in the house at the time.
After Sheppard was finally free, he was allowed to practice osteopathic medicine and surgery, and in early 1968 he was back at work at a Youngstown hospital. By the end of the year, however, he'd been named in two wrongful death suits and had resigned. Around the same time, Ariane filed for divorce.
Sheppard spent 1969 living with B.L. Strickland in Gahana, Ohio (a suburb of Columbus). Sheppard wrestled (!) at charity events as "The Killer" (!!), and Strickland served as his partner and manager.
Strickland had a 20 year-old daughter, Colleen. Dr. Sam Sheppard married Colleen on 21 October 1969. Sheppard got sick with what he thought was the flu in early April of 1970, and he died a few days later on 6 April, around 7 a.m.
For years, Sam Reese "Chip" Sheppard tried to clear his father's name. His many efforts came to an end in 2002, when the U.S. Supreme Court upheld the decision that said he could not sue Ohio for the wrongful imprisonment of his father.
It's a sad tale all the way around. One more reason not to get wrongly convicted of murder.
For more:
Read the Who2 biography of Dr. Sam Sheppard.
For more photos and sketches related to the case, try this page from the Sheppard Trials site.
Search the FBI Vault for their files on the Marilyn Sheppard murder and the Sam Sheppard case. There are many files that look something like this: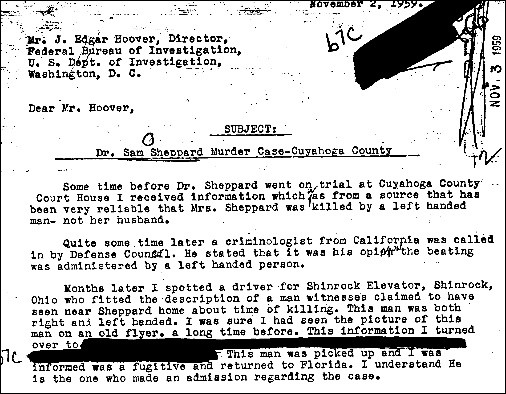 And finally, read how Sam Sheppard figures into Commond Bonds: Exhumation Celebration (hint: they dug him up).