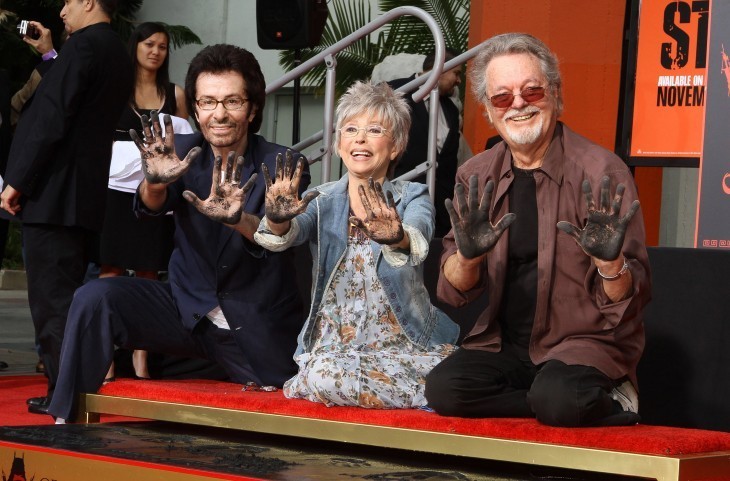 WENN / FayesVision
George Chakiris, Rita Moreno and Russ Tamblyn made handprints at Grauman's Chinese Theater in Los Angeles yesterday. The occasion: the 50th anniversary of the 1961 movie West Side Story.
Tamblyn is 76, Chakiris is 77, and Moreno turns 80 in December. (Isn't an actor's life supposed to be hard?  They look great.)
In the grand Hollywood tradition, all were in their late 20s while playing teens in West Side Story. No wonder Moreno and Chakiris won that year's Academy Awards as best supporting actress and actor.  ("You're 29 playing 17?  Take a statue!")  I would give Chakiris's 77-year-old hair a technical achievement Oscar right now.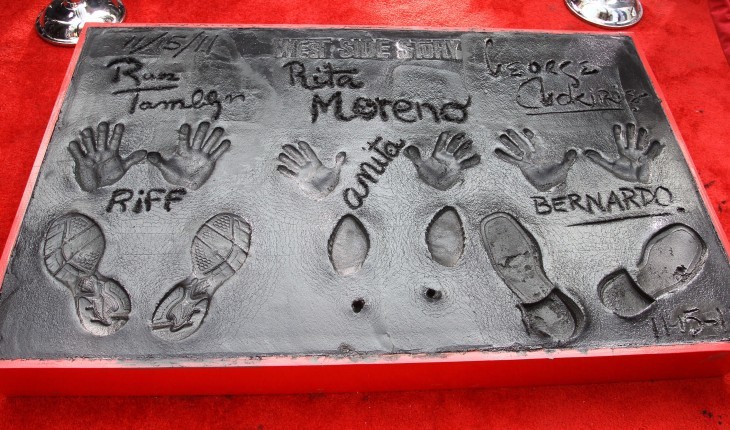 WENN / FayesVision
Tamblyn played Riff, leader of the Jets. Chakiris was Bernardo, head of the Sharks, and Moreno played his girl Anita.  Missing from the picture are the film's Romeo-and-Juliet leads: Richard Beymer (as Tony) and Natalie Wood (as Maria).
Wood died in 1981 (she'd be 72 now), but why isn't Richard Beymer in this picture?  It's not clear. He's alive (and "resides in Iowa" as of 2008) but he goes unmentioned in stories about this event. Moreno is even quoted as saying "I wish Natalie were here. I think that would really complete the quartet." Ouch!
Apparently Beymer and Wood didn't get along during filming. TCM claims that "Wood campaigned to have Beymer replaced because she didn't like him but the producers refused to honor her wishes." Tamblyn told the Daily Mail in 2009 that Wood "didn't like Richard Beymer, and wouldn't talk to him except when filming, which made for a dreadful tension between the couple who were supposed to be lovers. She wanted Warren Beatty for the part."
(Warren Beatty, eh?  He and Wood starred in Splendor in the Grass the same year.)
Maybe the film is just a sour memory for Beymer overall:
"I was miserable in West Side Story," he recalls. "They really miscast me. I came from the mid-West; what they really needed was a guy that was street smart. The first time I saw the movie, I had to walk out. I looked like the biggest fruit that ever walked on to film. My character was so weak."
Yikes! So maybe it's better for all concerned that he missed the 50th. (Ah, well: lyricist Stephen Sondheim didn't make it either.  And would Warren Beatty really have gotten his hands dirty yesterday?)
As for the happy three who did attend, here's how they looked in the film: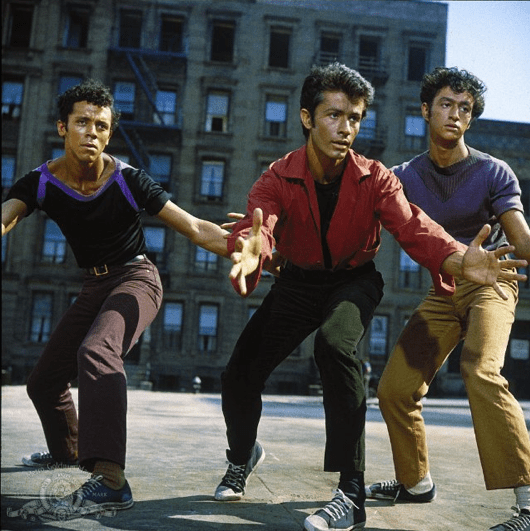 George Chakiris (center) as Bernardo.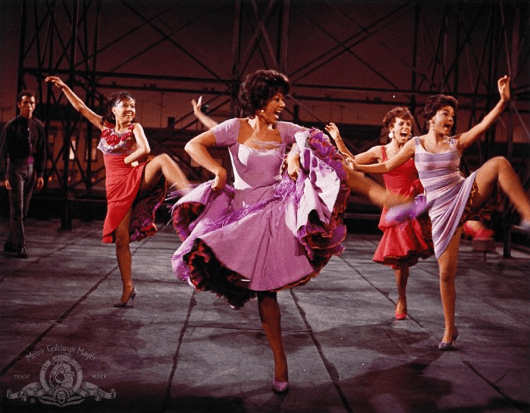 Rita Moreno (center) dancing as Anita.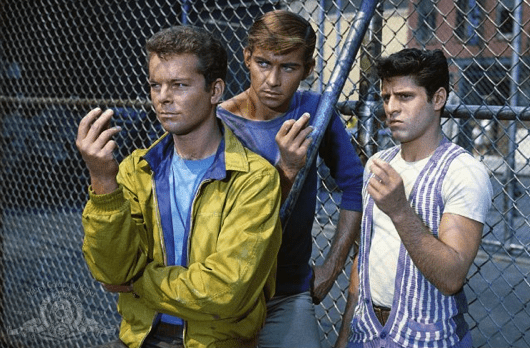 Russ Tamblyn (left), snapping his fingers as Riff.
West Side Story won 10 Oscars (including best picture) and is #51 on the AFI's latest list of the 100 greatest films of all time.  Not too shabby.