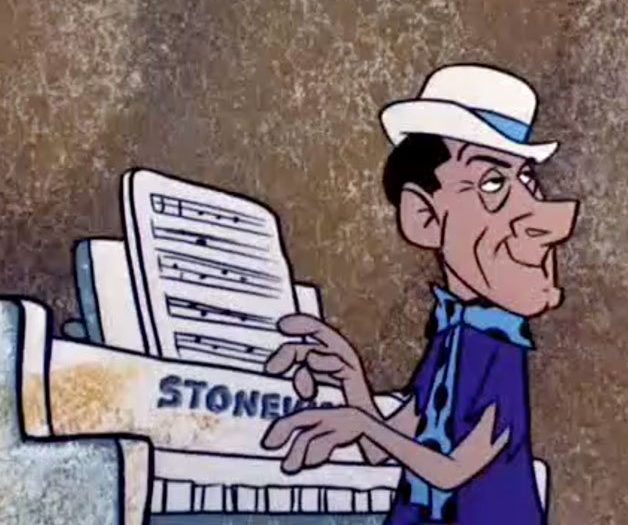 Looking back from a distance of 60 years, Hoagy Carmichael's 1961 appearance on The Flintstones was a strange affair.
One might think this was a desperation gag near the end of the show's run, when they began to go all Great Gazoo. Not so! Carmichael's episode, titled The Hit Songwriter, was the very first episode of the show's second year. Season one had ranked a very respectable #18 overall in prime time (Gunsmoke was #1 that year) and The Flintstones was nominated for an Emmy in 1961. So the show was pretty hot.
Hoagy Carmichael was not. He had once been very hot, in the 1930s and 1940s, when he was writing classic tunes like Stardust and Up a Lazy River and the ultra-smooth Skylark. He got even hotter when Hollywood found out his folksy Indiana charm translated to the screen, and began dropping him into films as a piano-playing uncle, pal, and raconteur.
That's Hoagy at the piano in
To Have and Have Not
, singing "Am I Blue" with
Lauren Bacall
while
Humphrey Bogart
looks on. Or dig him
in this scene
from the Oscar-winning
The Best Years of Our Lives
, noodling along as he talks to unhappy veteran
Harold Russell
(who really did lose both hands World War II). Wow. They're both terrific!
He was The Famous Hoagy Carmichael for almost two decades as he wrote songs for movies, had his own radio show, and guest-starred on variety shows in the early days of TV. Then Chuck Berry arrived and the bottom dropped out for old-timey songwriters. More or less overnight, Hoagy went from hitmaker to a guy who couldn't get his songs recorded or even published. Nobody wanted Kate Smith warbling about the Wasbash when Elvis Presley was out there gyrating to "Hound Dog." Carmichael's big fade is covered in painful detail in Stardust Melody, Richard Sudhalter's excellent biography. As Publishers Weekly put it, Hoagy "embodies the American myth—hardworking, self-taught, recognized for his efforts and [then] pushed aside by the next big thing: rock and roll."
That was where things stood in 1961 when Carmichael somehow found himself as the first real-life celebrity to appear on The Flintstones. It's amusing, or horrifying, to imagine the call Hoagy got from his agent: "How about a guest shot on a cartoon about cavemen?" Still, Hoagy's phone hadn't been ringing, and prime time is prime time. For their part, the producers of The Flintstones may have been influenced by the success of Ray Charles, who in 1960 had an out-of-nowhere #1 hit with Hoagy's 1930 tune "Georgia On My Mind." Maybe there was some life in the old boy yet!
The result was the clip seen here. The episode is titled "
The Hit Song Writers
" and the dopey plot involves the usual get-rich-quick scheme from Fred: they'll harness Barney's poetic abilities to become hit pop composers. Somehow they bump into Hoagy Carmichael (no doubt in Stone Pan Alley) and convince him to co-write a song. Hanna-Barbera being relentlessly on-brand as always, the song is titled "Yabba Dabba Dabba Dabba Doo." The lyrics, for the record:
Boy, do we know how to bust Monte Carlo
And to never be blue
It's a lot like praying
Just keep a-saying
Yabba dabba dabba dabba doo!

If you think your sweetie's left for Tahiti
We can give you a clue
There's no need for cryin'
Roar like a lion
Yabba dabba dabba dabba doo!

B-A-D-D-A means bad
D-A-B-B-A means good
Oh what magic in a word we've found
By switching the letters around

So if someday the bases are loaded
And they're counting on you
You just can't strike out
If you'll up and shout,
Yabba dabba dabba
Yabba dabba dabba
Yabba dabba dabba dabba doo!
Hoagy rarely wrote his own lyrics, and he surely didn't write these. Even at age 62 he was craftsman enough not to pen a line like "and to never be blue" as a rhyme for "yabba dabba doo." (The music was credited to Hoyt Curtin, who cranked out music for everything from Magilla Gorilla to The Garbage Pail Kids in a truly fecund career.)
Carmichael was said to be the modest Midwestern type, and it's a good thing, because otherwise it's easy to imagine him going into a Casey Kasem-style profane rant upon being asked to sing lines like "B-A-D-D-A means bad / D-A-B-B-A means good":
Did you see The Best Years of Our Lives? Won the #%*@! best picture Oscar! I was right there the set when Bogie and Bacall fell in love during To Have and Have Not! I wrote "Stardust," for cryin' out loud! Johnny Mercer and I won an Oscar a few years ago! And now I'm on a #%*@! cartoon singing "B-A-D-D-A means bad"? "Boy, do we know how to bust Monte Carlo"?!? They didn't even have a #%*@! Monte Carlo then, it's the #%*@! #%*@! Stone Age! #%*@! Neanderthals putting a rock on black 22, so they can win more #%*@! rocks? Give me a #%*@! break!
Fortunately, as we say, no such rant was recorded. Hoagy came in and did his bit like the old pro he was.
Somehow, the writers failed to give Hoagy the usual paleolithic pun name, as with Ann Margrock or Stoney Curtis. (The Stoneway piano is not a bad touch, to be fair.) Maybe it was just too difficult to find a related rock: Igneous Carmichael? Hoagy Cyclosilicate? Or maybe they were afraid the home viewers wouldn't remember the old boy well enough to know him with a gag name.
Did they at least get his caricature right? Judge for yourself: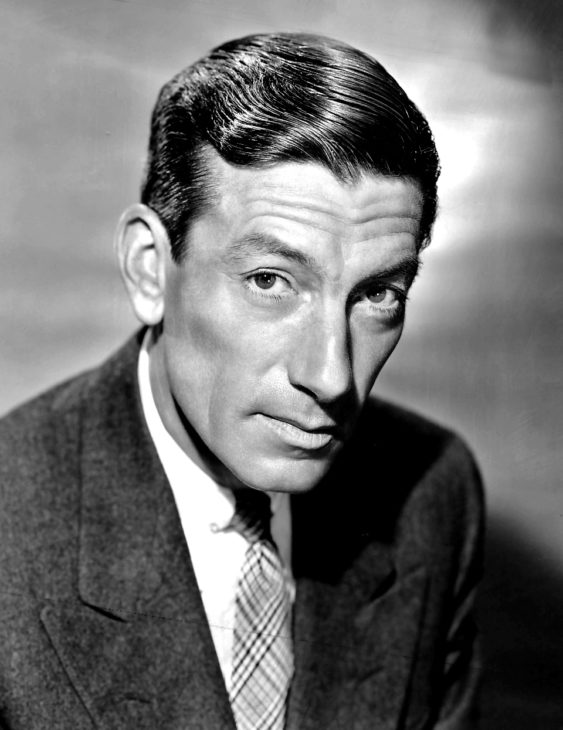 It's, uh… in the vicinity. Not to knock The Flintstones, but Hoagy deserved a more dignified third act. Well, that's showbiz!
Now see our full biography of Hoagy Carmichael »