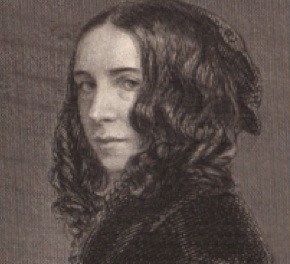 Poet Elizabeth Barrett Browning died on this day 150 years ago.
She was 55 at the time and was living in Italy with her husband, the poet Robert Browning. The two had eloped there in 1846, escaping her tyrannical father.
During their courtship, Elizabeth Barrett wrote Sonnets from the Portuguese, her passionate set of love poems. Here's the most famous of those sonnets:
How do I love thee? Let me count the ways.
I love thee to the depth and breadth and height
My soul can reach, when feeling out of sight
For the ends of Being and ideal Grace.
I love thee to the level of everyday's
Most quiet need, by sun and candle-light.
I love thee freely, as men strive for Right;
I love thee purely, as they turn from Praise.
I love thee with a passion put to use
In my old griefs, and with my childhood's faith.
I love thee with a love I seemed to lose
With my lost saints, — I love thee with the breath,
Smiles, tears, of all my life! — and, if God choose,
I shall but love thee better after death.
Nice.
Sonnets from the Portuguese really is one of the coolest titles ever. Browning didn't want to publish the intimate sonnets as her own work, so she first published them in 1850 as anonymous poems translated from another language. The title came from Robert Browning's nickname for his wife, "the Portuguese."
After Elizabeth's death, Robert Browning gave up the crazy Mediterranean
life and returned to England, where he lived and published for another
28 years. Their love story remains one of the most romantic in English literature.