Jacki Weaver is our new favorite Oscar nominee, and we might as well admit it.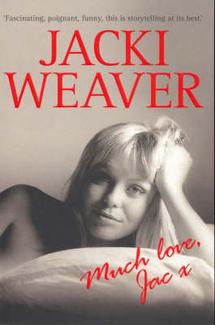 She's 4'9″, she's been married five times, and she's an icon in Australia thanks to the theater career she threw herself into at age 15. She's played all the roles there, from Peter Pan and Cinderella right through Chekhov.
Jackie Weaver has also been a favorite guest star on Australian TV, making repeat appearances on shows like their long-running cop series Homicide: "[In 1965] I went to Melbourne to be murdered in my first episode of Homicide," she says in her 2005 memoir Much Love, Jac. "I think, all up, I was done in about nine times in Homicide. As well as having some very narrow escapes."
There's a touch of Liz Taylor to her story, and not just the teen stardom and the marriages: Weaver was a favorite of the Aussie tabloids in her luscious youth, laughed it all off, and now seems to be a beloved eucalpytus tree firmly rooted in their landscape. All that and an Oscar nomination, too. And she's only 63.
Now let's talk about her birthplace.
Much Love, Jac includes this very specific tale:
"[My parents] were living in Sans Souci when I was born on 25 May 1947 in a Hurstville private hospital, in the foyer just inside the busy front door. My mother had had little warning of my impending birth, so when I emerged she was still wearing all her clothes. She never forgave me for the embarrassment."
Most sources say that Jackie Weaver was born in Sydney, so this set our antennae quivering.
Hurstville is a community of 77,000 about eight miles southwest of downtown Sydney. (Sans Souci is nearby.) The city has its own website, library, and police force that plays cricket against the city council every year.
We wrote to the Hurstville City Council to find out why Jacki Weaver isn't typically listed as being born there. They passed us on to the helpful Julie Fitzsimons of the Hurstville Library, Museum & Gallery, who set us straight:
"Hurstville is a suburb of Sydney… There were 2 private hospitals in Hurstville at that time, Woodleigh and Goshen Private Hospital, where Jacki may have been born.

On a birth certificate it would mention the suburb eg. I was born in Kingsgrove but on forms eg. a passport I would always put my birthplace as Sydney. Hurstville has been a "city" since the 1980s but is considered part of the Sydney metropolitan area.

Both are correct and I am happy for you to 'put Hurstville on the map' as Jacki's place of birth."
Which we are hereby glad to do. We prefer to rely on birth certificates for the precise city of birth, and the fact that Hurstville is now formally a city also sways us.
So we hereby declare: Jacki Weaver was born in Hurstville! And best of luck to her at the Oscars on Sunday night.