Jackson Pollock would have been 100 years old this year, had he not drunkenly flipped his Oldsmobile and died in 1956.
Originally from Wyoming, Jackson Pollock was born 28 January 1912. He settled in New York in the 1940s, after a decade of wandering, painting and working for the WPA's Federal Art Project. Now his place in American art history can be easily summed up: he was that guy who did the drip paintings.
Pollock didn't only do abstract, drip paintings. He did representational stuff during his career — like Naked Man With Knife, done in the late 1930s: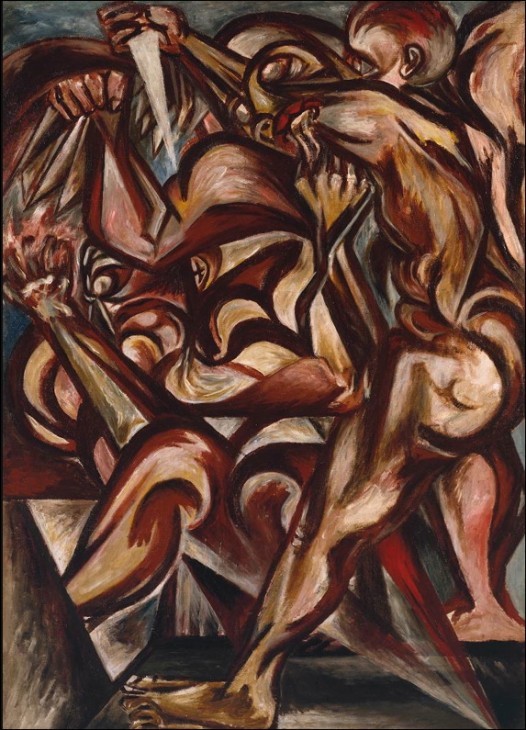 In fact, the paintings he "dripped" were mostly done from the mid-1940s until he pretty much stopped painting ten years later. On the night he died, his wife, painter Lee Krasner, was in Paris, on a European trip that spared her his erratic behavior and womanizing.
In the Oldsmobile that night were two others, Pollock's mistress Ruth Kligman and her friend, Edith Metzger. Pollock was drunk and speeding, the car flipped and killed him and Metzger. Ruth Kligman survived. She died in 2010 — and hers was quite a story.
Art Daily has a story about Pollock's centennial, "Fans Recall Jackson Pollock."
TIME-LIFE has a swell photo gallery for the guy they call "Jack the Dripper."
This 2010 story from Hampton's magazine has interesting details about his old house.
The New York Times gets in on the cute headline act with "A Life in Spatters."
The BBC has a nice feature, too, "Love and Death on Long Island."