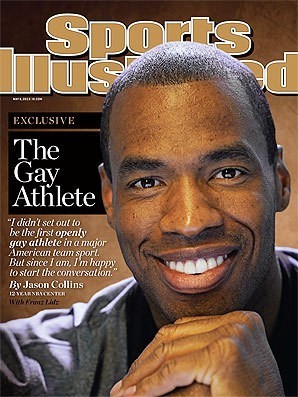 "I'm a 34-year-old NBA center. I'm black. And I'm gay."
So begins the article by Jason Collins in the latest Sports Illustrated magazine. It's a little surprising, here in 2013, that it makes Collins the first active player in the NBA, NHL, NFL or Major League Baseball to say publicly that he's gay.
(The WNBA has had openly-gay players for years; one of its biggest stars, Sheryl Swoopes, came out in 2005.)
Jason Collins is 7'0″ tall and a true NBA journeyman, having played for six teams in the last eight years. He's averaged 3.8 rebounds and 3.6 points a game over his career; not bad, but not amazing for a 7-footer, either. His twin brother, Jarron Collins, also played in the NBA from 2001-2011.
Jason Collins has a funny line about Jarron in his story, after noting that he had first came out to an aunt:
I didn't come out to my brother until last summer. His reaction to my breakfast revelation was radically different from Aunt Teri's. He was downright astounded. He never suspected. So much for twin telepathy.
He says Jarron was "full of brotherly love" after learning the news. NBA commissioner David Stern is among the many who have already issued messages of support for Collins.
Jason Collins played for the Washington Wizards last year, but he's now a free agent. What are the chances a 34-year-old journeyman will find a spot on an NBA team? Nate Silver breaks down the numbers.
Here's hoping he lands a job. Because if he doesn't, he technically won't be the first active NBA player to come out as gay, and we'll have to do the whole thing over again in the future.
See our full Jason Collins biography »