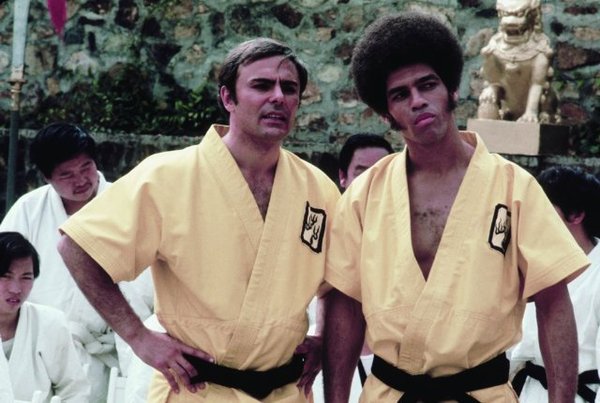 Jim Kelly, the tall guy with the magnificent afro in the Bruce Lee karate classic Enter the Dragon, has died at age 67. Kelly played Williams, the karate champ who sassed the arch-villain, Han:
Han: We are all ready to win, just as we are born knowing only life. It is defeat that you must learn to prepare for.

Williams: I don't waste my time with it. When it comes, I won't even notice.

Han: Oh? How so?

Williams: I'll be too busy looking gooood.
But it wasn't all about looking good:
"I broke down the color barrier — I was the first black martial artist to become a movie star," said Kelly, 63, the owner and director of a tennis club in the San Diego area. "It's amazing to see how many people still remember that, because I haven't really done much, in terms of movies, in a long time."
True that. After his awesome turn in Enter the Dragon, Jim Kelly was briefly a hot item in "blaxploitation" movies like Black Belt Jones, which had some of the worst fisticuff sound effects in the history of modern cinema:
Black Samurai, Hot Potato and Death Dimension (with George Lazenby and Harold 'Odd Job' Sakata!) were some of Kelly's other 1970s starring roles. By 1980 he was pretty much out of the movies. He was later a tennis pro at the Coronado Bay Club in San Diego and hit the nostalgic fan-con circuit.
"My ultimate goals were to get into the movie business, to become famous, to make a lot of money and motivate and inspire young people, people of all nationalities and colors," Kelly told the LA Times in 2010.
And also to be clubbed to death by a villain with a cast iron prosthetic hand in one of the great action films of the 1970s. We'll always have Enter the Dragon.
Jim Kelly, 'Enter the Dragon' Star, Dies at 67 »