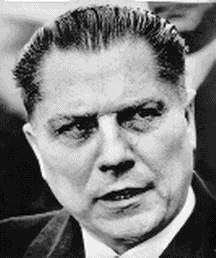 Jimmy Hoffa is still missing.
FBI agents and assorted agents of the law spent yesterday digging for Jimmy Hoffa on a farm north of Detroit, acting on a tip from old-time mobster Tony Zerilli. So far, it's been another dry well.
But the new and unpleasant news for Hoffa is that Zerilli says the Teamsters boss was conked with a shovel and then buried alive:
"There was an old house with an old barn on the property," Zerilli wrote, according to a copy handed out by a man at the site, near where FBI agents are digging today. "As soon as they pulled near the barn, Hoffa was dragged out of the car, and bound and gagged. A shallow hole was already dug in the barn floor. He put up a fight, but he was easily overpowered. …(One of the men) picked up a shovel and cracked Hoffa over the head with it. …They threw him into the hole, and buried him alive. He wasn't shot, he wasn't stabbed, nothing like that. A cement slab of some sort was placed on top of the dirt to make certain he was not going to be discovered. And that was it. End of story."
Yikes! Zerilli was in jail when Jimmy Hoffa was killed, but his dad Joe Zerilli was "one of five ruling members of the Motor City Mafia" and supposedly got the straight dope on Hoffa's death.
The farm being searched now is, presumably, the property with the old house and barn. Police have found two concrete slabs, but "core samples of the slabs, described as typical foundation concrete, and the dirt underneath did not yield any clues to Hoffa's disappearance."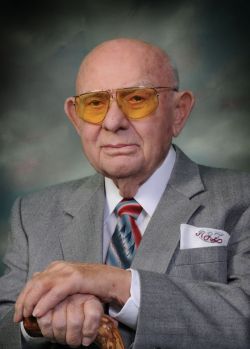 Here's a shot of Tony Zerilli today, from his website HoffaFound.com — where you can buy a book he's written about Hoffa's death ($7.99) or order an autographed 8×10 glossy (cheap at $22.99).
Zerilli's site doesn't call him a "former mobster," of course. It calls him the "son of the well-respected Sicilian-American Joseph Zerilli." Gee, he shouldn't even have been in jail:
Anthony J. Zerilli spent nearly seven years in Federal Prison for crimes he did not commit. He kept his mouth shut and did his time. He ratted on no one. He is nobody's stool pigeon. Never has been and never will be. But he must set the record straight and clear his family name.
"Nobody's stool pigeon" may not be the best phrase to utter when trying to clear the family name of alleged mob ties. But let it pass.
The good news for Hoffa is that the "buried alive" story may turn out to be just another hoax. He could yet be buried in the Everglades, a Cleveland tavern or General Motors headquarters.
Detroit Free Press: The Search for Jimmy Hoffa »