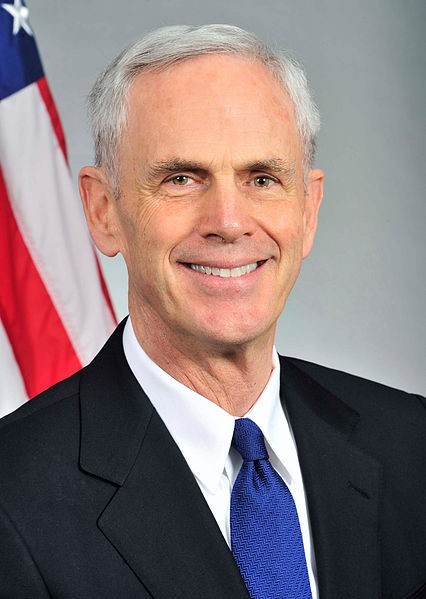 Secretary of Commerce John Bryson has "limited recall" of the hit-and-run crashes he was cited for on Saturday, says a Commerce Department official.
[ Update: Bryson is taking medical leave. ]
Here's what's known about the event at this moment:
John Bryson had a seizure of some kind before or during the accidents, according to a Commerce Department spokesperson.
Bryson passed a Breathalyzer test on the scene. Police say he took the test voluntarily, and this is presumably why they said earlier that alcohol and drugs weren't suspected in the crash. They also drew blood, and are awaiting toxicology reports.
Bryson was injured slightly and was cited for hit-and-run by police, but he was never arrested or jailed. After hospital treatment, he was released.
Bryson was "back in the office Monday," says ABC News. They also quote a Commerce Department official as saying Bryson has "limited recall" of the incidents.
It's not known (yet) if Bryson had a pre-existing medical condition. White House Press Secretary Jay Carney was asked at a press briefing today if President Barack Obama knew that Bryson had any such condition, and said "I have nothing for you on that."
"Is the secretary healthy and fit to serve?" Carney was also asked this question at the briefing. He referred reporters to the Commerce Department and said "we're still in the process of gathering information about it."
Seizures while driving are "extremely rare," says the Los Angeles Times, but happen more often to older drivers. Such incidents often end in death, the paper says.
Police say an investigation of the crashes
is ongoing
.