It's official: a dingo did kill Azaria Chamberlain.
That's the final ruling of the coroner in the sensational death of the Austrlian toddler in 1980. The case was reopened last year as the baby's parents fought to have the official cause of death changed from "unknown."
Azaria was two months old when she disappeared from a tent near Uluru (Ayers Rock) in the Australian outback. Her mother, Lindy Chamberlain, insisted that a wild dingo had taken the child. No matter: Chamberlain was convicted of murder and sentenced to life in prison with hard labor.
"But after Azaria's matinee jacket was found in 1986 the case was reopened and a royal commission in 1987 exonerated both parents. In 1988 the Northern Territory Court of Criminal Appeals overturned all convictions against the Chamberlains.

Despite their exoneration, a coronial inquest into the disappearance of Azaria in 1995 delivered an open verdict, and the Chamberlains have been fighting to have that changed."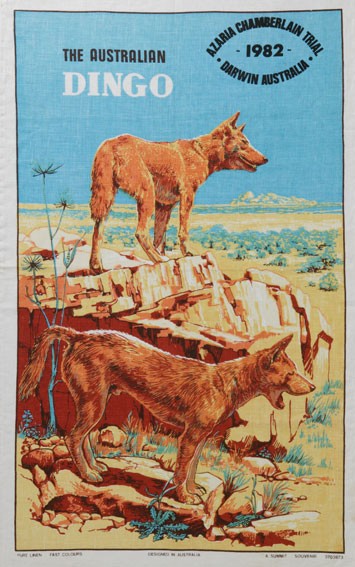 The case has always been a charged one in Australia. The National Museum of Australia even has a
remarkable collection
of clothing and images from the case (like the souvenir
trial tea towel
above). And
not everyon
e
agrees with the new verdict.
Meryl Streep
's famous cry of "The dingo's got my baby!" in
A Cry In the Dark
made the case more famous. The phrase became a pop-culture joke used on shows ranging from
Seinfeld
to
The Simpsons
. (It was misquoted, often, as "A dingo ate my baby!")
In February, the Mr Tipple told the inquest there were 239 recorded instances of dingoes attacking people in Queensland from 1990 to 2011, with many of those attacks occurring on Fraser Island.

Based on that new evidence, Mr Tipple asked the coroner to find, on balance of probabilities, the cause of Azaria's death was a "mechanical action by a dingo."