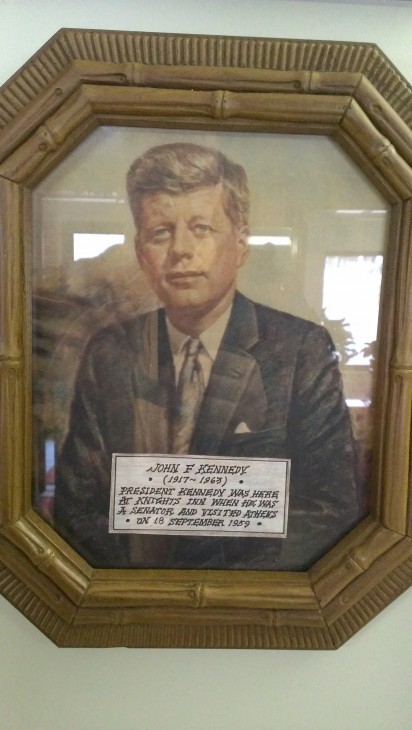 Here's the story of a place where John F. Kennedy almost slept.
The portrait above hangs in the lobby of the Knights Inn motel on the outskirts of Athens, Ohio. "John F. Kennedy (1917-1963)," reads the caption. "President Kennedy was here at Knights Inn when he was a senator and visited Athens on 18 September 1959."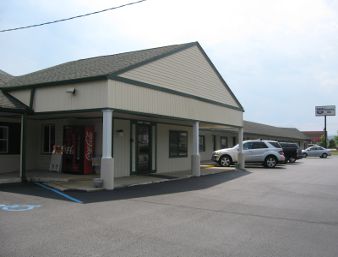 The Knights Inn isn't what you'd call a boutique hotel. It's a classic old 1950s ranch-style motel with one-story row of rooms and diagonal parking in front of each room.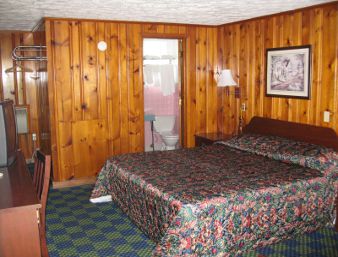 Plus: knotty pine! They've kept the great old paneling but updated the rest of the rooms in modern motel-durable style.
So what about that photo and the vague wording that Kennedy "was here at Knights Inn"?
Turns out that back in September of 1959, Senator Kennedy made a testing-the-waters swing through Ohio. (In those quaint days, candidates would wait until just a year before the election to visit key states.) He brought along his brother Teddy, then a law school student at the University of Virginia.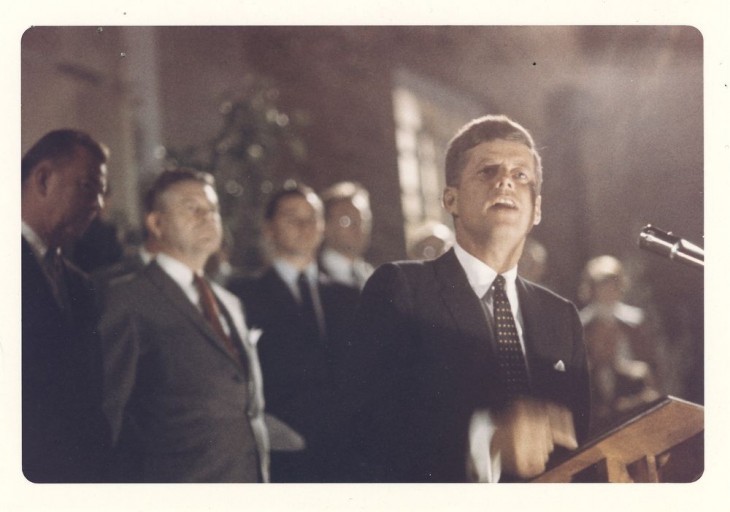 (Photo: John F. Kennedy Presidential Library)
John Kennedy spent one evening in Athens, the small-town home to Ohio University. He talked at a $5-a-plate Ohio Democrats dinner and then gave a 15-minute speech on the steps of the school's Baker Center.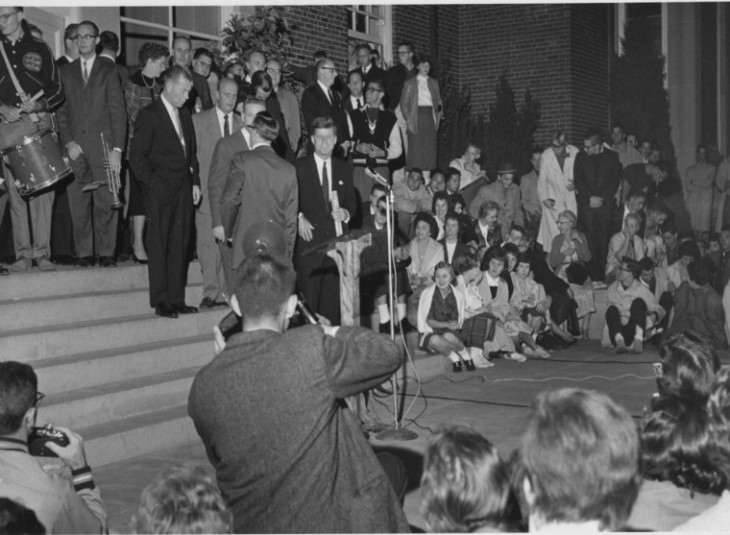 (Photo: Athens Messenger)
Note the trumpeter and drummer at upper left. A real old-fashioned rally.
Fittingly for a town named Athens, Kennedy "spoke to the college students about the Greek philosophers." He also "reminded the students of their obligation to society." (Early shades of "Ask not what your country can do for you.")
It all went well, according to Athens County Democratic Chairman William Lavelle, who arranged the visit:
"They were extremely friendly," Lavelle recalled of the Kennedy brothers. "They were just extremely popular… The girls on college campuses would steal Kennedy's cufflinks. They'd pull them off of him and keep them."
(Photo: John F. Kennedy Presidential Library)
The Knights Inn—then called the Athens Motel—played a big part in the day. Here's Lavelle's description of the motel in a pre-visit letter to Kennedy's office:

(Image: John F. Kennedy Presidential Library)
The Athens Motel is also mentioned in a 1964 oral interview with politician James Haught of nearby West Virginia.
Haught: Early in the campaign [JFK] came into Parkersburg, landed at the airport, and I went along with him and his party to Athens, Ohio, where he addressed the student body at Ohio University. We took the complete motel that day as I recall and, of course, there were various reporters and editors of magazines traveling with him. They asked questions at that time—he held a press conference that afternoon. He seemed to never wear out—just constantly on the go…

Q: Do you remember anything about the trip to Ohio University that indicated the Senator's special appeal to college students or young people?

Haught: I certainly do. Of course, they knew he was coming and we first went to the motel where we rested and had a—I rested, he had a press conference and had other telephoning to do—we then went along with him to the university and he spoke from the front steps—I believe it was in front of the administration building—to several thousand cheering young people and the reception was overwhelming and I felt then as I feel now that certainly if this is any demonstration of what the American people will do, this man is the next president of the United States.

Q: The student reaction then was generally pretty favorable?

Haught: Very favorable—he was very impressed.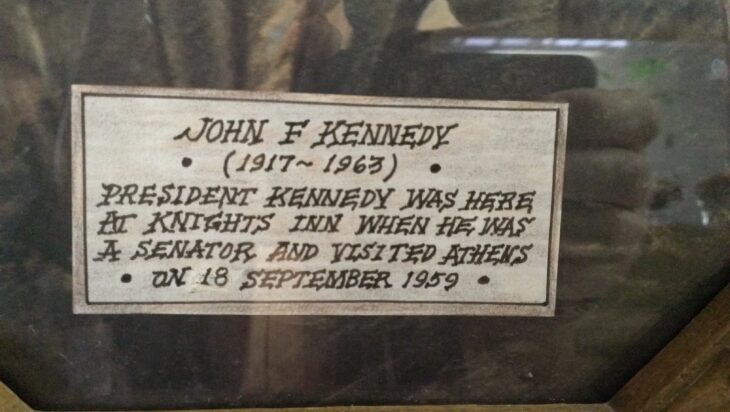 Haught seems to be mistaken about reserving "the complete motel," but everyone agrees that John Kennedy stopped there, made calls, and talked with the press. Still, the Knights Inn can't quite say Kennedy slept there:
Lavelle remembered that he reserved a hotel room at what is now the Knights Inn on East State Street (called the Athens Motel at the time) to act as headquarters for their time in Athens. However, the Kennedy brothers did not end up spending the night.
That's confirmed in another letter from Kennedy's office to Lavelle, now in the archives of Kennedy's presidential library: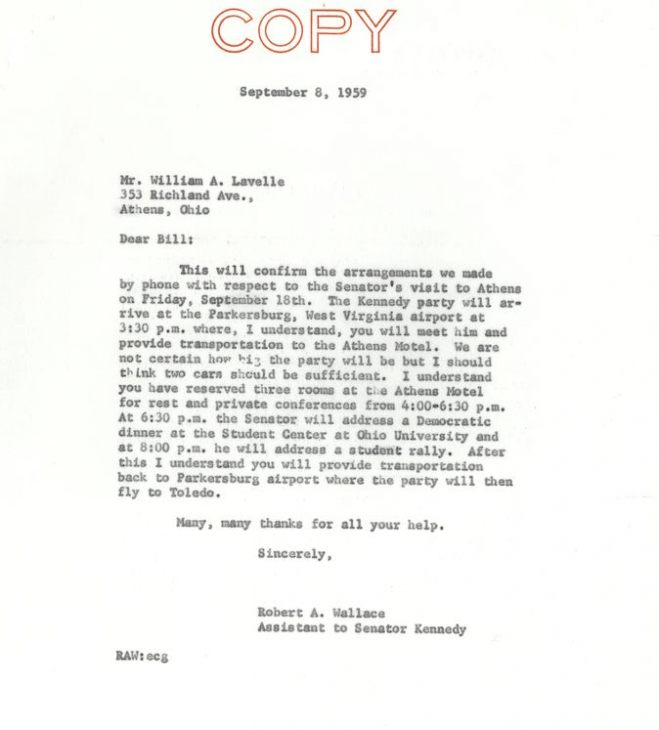 (Image: John F. Kennedy Presidential Library)
So: Kudos to the Knights Inn for remembering Kennedy (and for not over-bragging that he actually slept there).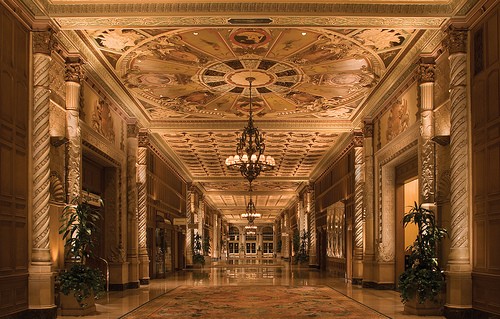 The Biltmore Hotel in Los Angeles
John F. Kennedy didn't spend much more time in small-town motels. 10 months later he was headquartered at the Biltmore Hotel in Los Angeles, accepting the Democratic nomination for president.
Some consolation for the Knights Inn: Kennedy didn't sleep at the Biltmore, either.