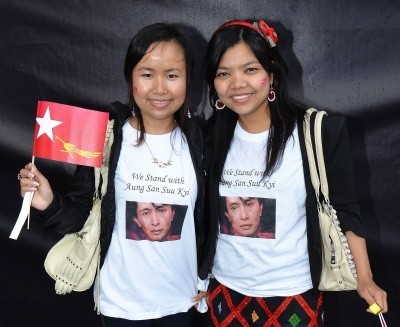 Aung San Suu Kyi, the stalwart Burmese dissident, is visiting Europe this week after decades of house arrest. She was greeted in Ireland by supporters like these — and also by the Tanaiste (or deputy prime minister), Eamon Gilmore:
"[Gilmore] said he was honoured and delighted to give her the Irish cead mile failte (hundred thousand welcomes). 'Ms Suu Kyi is enormously admired in this country and her visit here is something which we have long hoped to see,' he said."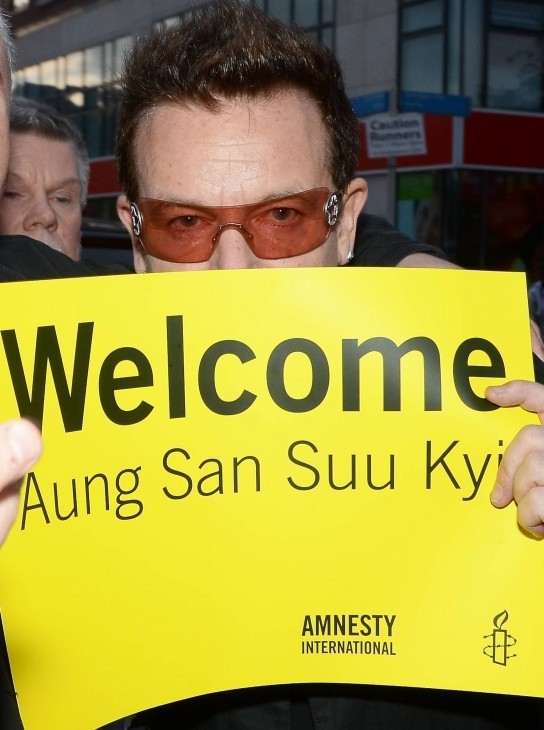 No trip to Ireland would be complete without a
Bono
spotting. He was on hand to do a short concert as Amnesty International presented Aung San Suu Kyi with its "Ambassador of Conscience" award.
Sir Bob Geldof
also made the trip.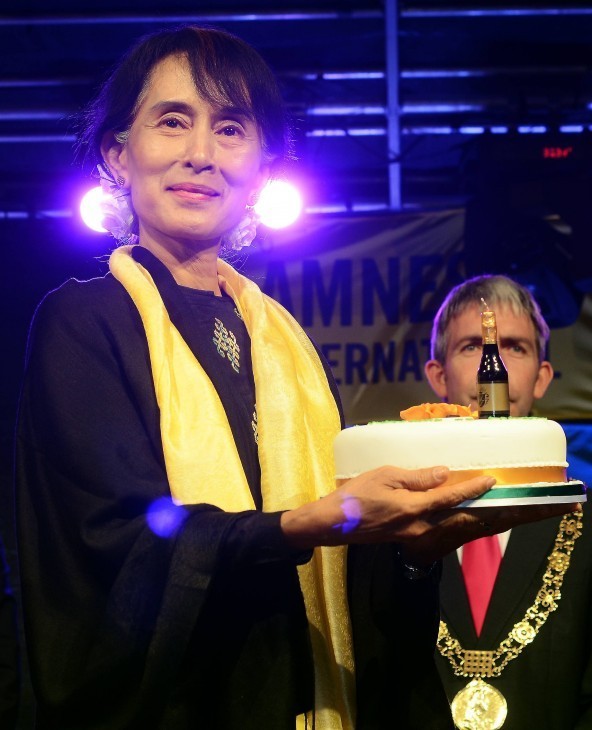 Aung San Suu Kyi then
accepted
the Freedom of Dublin — which actually was given to her in 2000, while she was still under house arrest in Myanmar. She also got a cake for her 67th birthday, which was Tuesday, and was serenaded with "Happy Birthday" by the Irish crowd.
And
she was given an
honorary doctorate
by Trinity College. Quite a haul for a one-day visit. Richly deserved, of course.
Then it was on to London and her first visit to the UK
in 24 years
. She studied at Oxford and there met her husband, Michael Aris.
"She had not been back to the city since April 1988, when she left for Burma to nurse her sick mother, intending to return to Britain within weeks. This coincided with mass protests against Burma's military government. She became involved in the uprising, and was placed under house arrest by the regime in July 1989."
She will address Parliament on Thursday, a rare honor. (Bet her opening joke isn't
as good as Obama's
, though.)