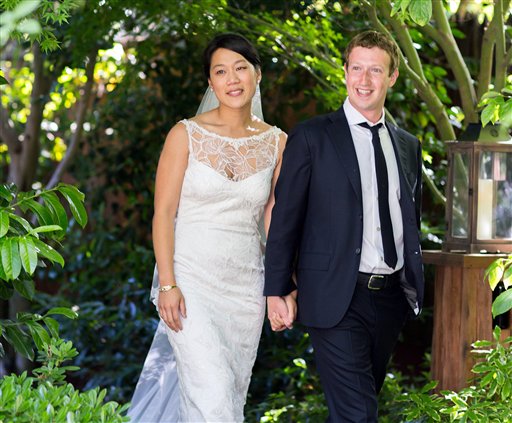 Facebook founder and CEO Mark Zuckerberg updated his status to "married" on Saturday.

Zuckerberg and 27-year-old Priscilla Chan tied the knot at a small ceremony at his Palo Alto, Calif., home, capping a busy week for the couple, according to a guest authorized to speak for the couple.
That unnamed (but "authorized"!) spokesman also
told the AP
that the wedding was planned around Priscilla Chan's graduation date. Facebook's IPO yesterday was just a coincidence.
The guests all thought they were coming to celebrate Chan's graduation but were told after they arrived that the event was in fact a wedding.

"Everybody was shocked," the guest said.

Rather than his trademark hoodie, Zuckerberg wore a suit for the ceremony, while his bride wore a traditional wedding dress.
The couple have been dating since meeting at Harvard nine years ago.