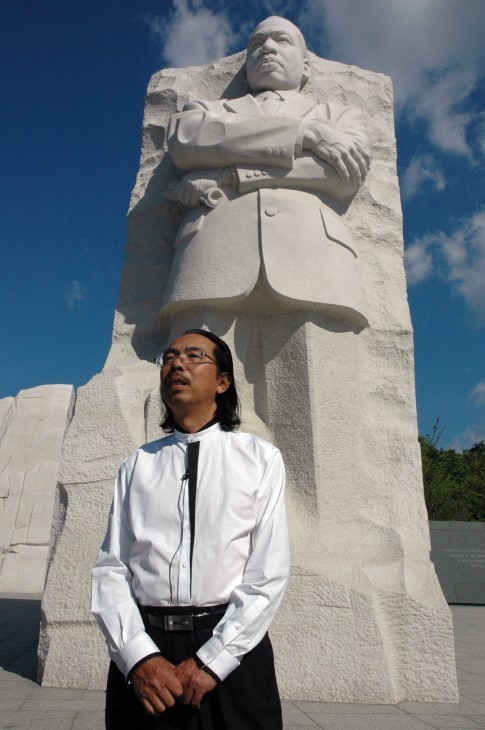 Meet Lei Yixin, the Chinese artist who sculpted the statue of Martin Luther King, Jr. at the new MLK Memorial on the National Mall.
Yes, a Chinese artist. The statue was actually sculpted in the city of Changsha, by Lei and his assistants, "from a unique white granite with color inclusions, found only in China."
And yes, there was some controversy with that choice. As in: "Dr. King's statue is to be shipped here in a crate that supposedly says 'Made in China.' That's just obscene."
Ah, but:
"White rock shows up better than black rock at night. Chinese white granite is harder than the domestic variety, so it will last longer. The artist best prepared to work the hard Chinese rock is, not suprisingly, Chinese."
(The less-inspiring defense: "This is no different from the Houston Rockets working with Yao Ming, or Jackie Chan in Hollywood movies.")
Here's how it came to be:
Attending an art university directly after the ravages of the Cultural Revolution, Lei Yixin graduated in 1982 and went on to work as a draftsman, and was later encouraged by a government official to move into designing public sculpture. Lei has created over 150 monuments, including statues of Mao Zedong. But it was the artist's 2006 "Contemplation" sculpture that caught the eye of Ed Jackson, the executive architect of the Martin Luther King Foundation, who named Lei the head sculptor for the "Stone of Hope" monument in 2007.
Some feel the statue is too heroic in that classic totalitarian way. We'll see. There was also controversy when Maya Lin, an American of Chinese descent, designed the Vietnam Veterans Memorial. And that memorial has worked out pretty darned well.
The MLK Memorial really did screw up on the drum major quote, though. But that can't be Lei's fault: he doesn't speak English.