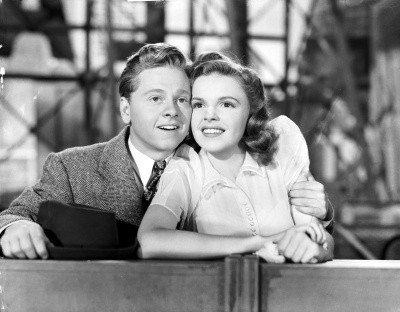 Mickey Rooney has died at age 93, and it's a sure bet that they'll save a slot for him in the "Those We Lost" segment at next year's Academy Awards. He was a big star for MGM back in the day; in fact, he was Hollywood's #1 box-office draw in the late 1930s and early 1940s.
Mickey Rooney went from vaudeville tyke to sassy support player to the star of a long string of youthful comedies and musicals, many of them with fellow prodigy Judy Garland (above).
If you've ever heard anyone say "Let's put on show!" as a reference to old-time Hollywood spunk, this is the moment they're talking about. That's Rooney as clean-cut dynamo Andy Hardy, a role he played in 16 different films.
Mickey Rooney appeared in about 340 movies and TV shows, and in his late 50s he made a strong comeback, with an Emmy for the 1981 TV movie Bill (playing a mentally handicapped older gent) and a star turn in the rollicking 1979 Broadway revue Sugar Babies. It was Rooney's Broadway debut.
And of course, he appeared in one of the greatest beer commercials of all time.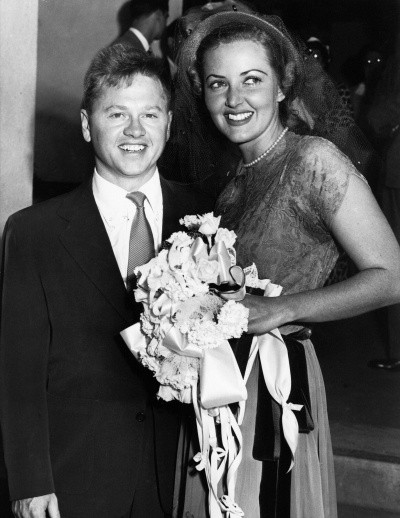 Mickey Rooney on his wedding day with wife #3, Martha Vickers
Mickey Rooney stood 5'3″ tall; "Life is Too Short" was the title of his 1991 autobiography. He was also famous for his "appetite for life," as it used to be called. He was married eight times and fathered 11 children. The Daily News calls it "a life with more wreckage than Lindsay Lohan and Britney Spears combined." (On a personal note, one of those daughters now cuts the hair of our own technical guru, Mr. Duffy.)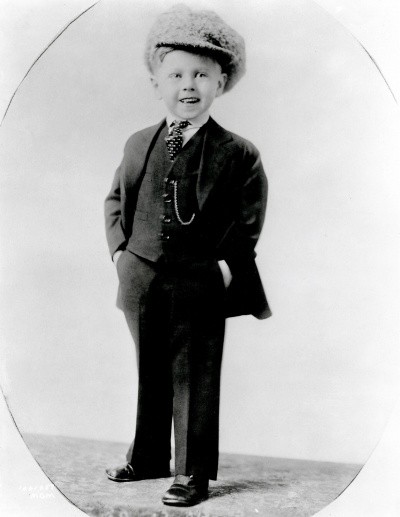 Not many people can say they had a 90-year career in anything, but Mickey Rooney could. He started as a toddler on the vaudeville stage, and was working on a new movie, Dr. Jekyll and Mr. Hyde, at the time of his death. Good for him.
See our full Mickey Rooney biography and links »