His no-danger, safety-harnessed walk on a long straight wire was good for 13 million viewers.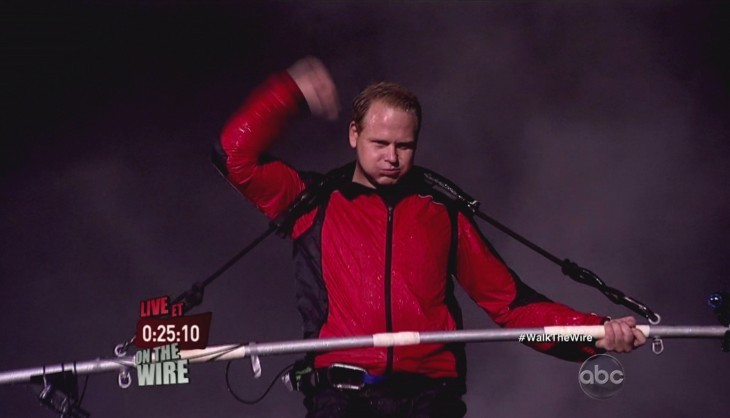 Boring makes good TV!
That was the weekend message for the ABC network, which scored big on Friday night with Nik Wallenda's no-danger, no-threat-to-life-and-limb, follow-your-dreams-people trot across Niagara Falls.
ABC's "Megastunts: Highwire Over Niagara Falls"… was the most-watched non-sports summertime (Memorial Day to Labor Day) telecast since 2006 and gave ABC its best Friday night since November, 2007.

…For the three hours of primetime, which, on ABC, were all devoted to the wire walk, the network topped second place CBS by +89% in viewers (8.7M vs. 4.6M), and more than doubled NBC in the younger demos: A18-49 (+110% – 2.1/8 vs. 1.0/4) and A25-54 (+117% – 2.6/8 vs. 1.2/4).
ABC is already in talks with Nik Wallenda to be shot out of a cannon while wearing a special harness that leaves him suspended in midair from a crane, so that he can be lowered safely to the ground.
We kid. Congratulations to him.