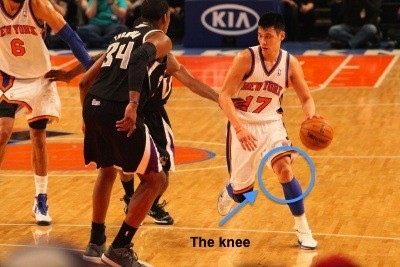 (Photo: PNP / WENN)
[ 2017 update: Alas, Jeremy Lin needs knee surgery again! ]
Lin-sanity is over, and it's no April Fool's joke. New York Knicks sensation Jeremy Lin needs surgery for a meniscus tear in his left knee.
The revelation of Lin's injury came a week after he first complained of soreness in the knee, in a March 24 victory over Detroit. A magnetic resonance imaging test Monday showed what the team called a small, chronic tear — meaning the injury had been present for some time — and Lin sat out the next three games. The extent of the injury was not announced until Saturday, in the hope that Lin's knee would respond to treatment and allow him to keep playing.

But the pain persisted, and after testing the knee once more Saturday morning, Lin opted for immediate surgery.
Jeremy Lin will be out for the rest of the regular season, and probably for the playoffs — if the Knicks make it. He's a free agent at the end of the year.
See our biography of Jeremy Lin »