Andy Griffith, star of the highly successful television shows The Andy Griffith Show and Matlock, has died in his North Carolina home, according to reports.
Here's his quick biography from Who2.
An obituary from the Charlotte Observer is here. They call him "homespun."
The New York Times obituary is here, and they call him "folksy."
Andy Griffith was also savvy. If you have to read just one newsy obituary, maybe you should go to this one from the Kansas City Star. It's the tale of a "white trash" boy from the small North Carolina town of Mount Airy. A guy who really wanted to perform on stage, and that's what he did. No, he never won an Emmy, but he certainly made his mark on television.
I have been to Mount Airy, North Carolina, but not since 1974. We used to pass through town on trips to visit relatives and stop at the Ray's Kingburgers for lunch. They had a signed photograph of Andy Griffith on the wall. I knew who Andy Griffith was, but I'd only seen his show a few times. At that time the most memorable thing about the show was the theme song. A few years later I watched The Andy Griffith Show in reruns and learned to appreciate it and even like it. I think this was the Ray's, which is now a B-B-Q place: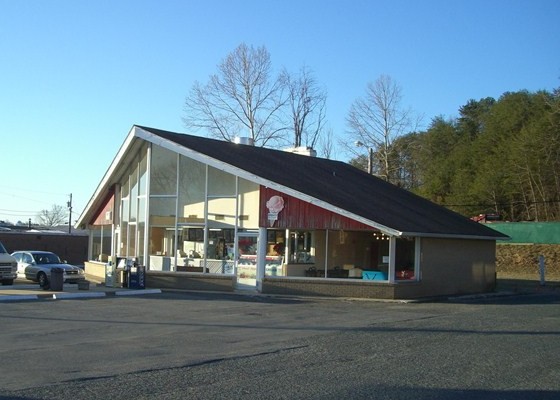 My other relationship to Mount Airy has to do with country singer Donna Fargo, who, like Andy Griffith, comes from that little town. For our biography of Donna Fargo I needed to verify the year of her birth. Different sources had different years, and it seemed from reading interviews with her that she was intentionally cagey about it.
I called Mount Airy a few times. I called the high school to see if they would tell me what year she graduated. I talked with the librarian there and she gave me the date of Fargo's graduation, but of course that only provides a hint, not a final answer. I also talked with the Donna Fargo Museum.
The women in Mount Airy were very friendly. They told me Mount Airy has changed a lot since 1974, and they encouraged me to come visit. One had lived up the street from Donna Fargo. Another had an older brother who was "in her year in school." But none of these women would be so rude as to tell me actually WHEN Donna Fargo was born. That would violate the code, of course.
If I'm ever in that part of the U.S. I will go visit Mount Airy. I have to visit both the Donna Fargo Museum and the Andy Griffith Museum, neither of which existed the last time I was there.
You can tour Mount Airy with Traveling Dan in this ten-minute video:
And you can see more of the Andy Griffith Museum in Mount Airy here at their website. I grabbed a couple of photos from them. Here's Matlock's jacket!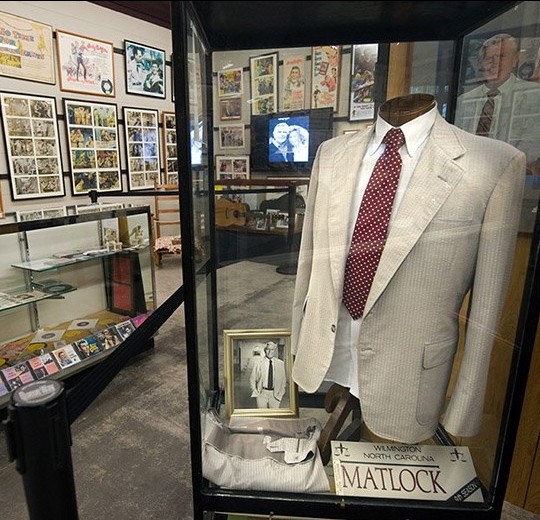 And here's Betty, who helps out at the museum and is an Andy Griffith fan: