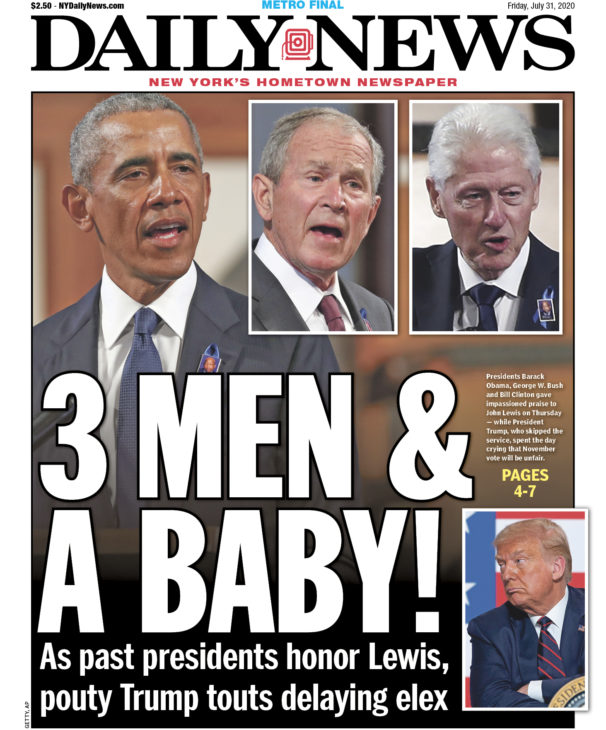 Now, there's a headline writer who went home with a sense of a job well done.
Noted the article:
Trump was the lone living president to play no official role in a week of public remembrances for Lewis. Obama, Clinton and Bush all spoke at the Ebenezer Baptist Church, where Dr. Martin Luther King Jr. once preached from the pulpit. Former President Jimmy Carter, at age 95, sent a statement that was read aloud by the church's senior pastor, the Rev. Raphael Warnock.
Meanwhile, Donald Trump was busy floating a trial balloon about delaying the November elections:
With Universal Mail-In Voting (not Absentee Voting, which is good), 2020 will be the most INACCURATE & FRAUDULENT Election in history. It will be a great embarrassment to the USA. Delay the Election until people can properly, securely and safely vote???

— Donald J. Trump (@realDonaldTrump) July 30, 2020

Not much of a surprise there. For a palate cleanser, read the transcript of President Barack Obama's eulogy for John Lewis.
"He believed that in all of us, there exists the capacity for great courage," Obama said, "that in all of us there is a longing to do what's right, that in all of us there is a willingness to love all people, and to extend to them their God-given rights to dignity and respect."
That's more like it.
Now see our John Lewis biography »