President Barack Obama delivered his 2012 State of the Union address last night, playing to that always-packed Odeon high on Capitol Hill.
It was Obama's fourth State of the Union address, and his last before the elections of 2012.
The NY Times has a fine interactive transcript that makes it easy to skip forward to text and video of any topic. And there were a lot of topics:
00:00 Opening Remarks

02:39 "The America Within Our Reach"

03:37 Economic Challenge and Recovery

08:59 American Manufacturing

11:48 Corporate Tax Reform

14:10 Fairness in Foreign Trade

16:30 Training Skilled Workers

18:56 Education

21:39 Affordable Higher Education

25:19 Supporting Innovation

27:17 Oil and Natural Gas

29:53 Clean Energy

33:54 Infrastructure Projects

35:22 Housing Market and Mortgages

37:22 Corporate and Financial Regulation

42:13 Taxes and "The Buffett Rule"

47:33 Money in Politics

49:32 Bipartisanship

53:11 The Middle East

55:45 Iran

56:48 Global Influence

58:55 Military Spending

01:14 Closing Remarks; Appeal to Unity
The White House also went all out with some cool features, like the roll-over chart showing the 21 super-symbolic people crammed into the First Lady's box along with Michelle Obama, Jill Biden, and advisor Valerie Jarrett.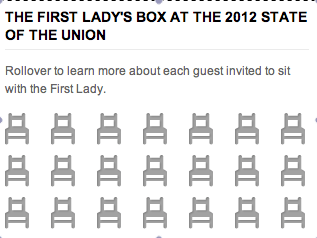 If we may make a bipartisan suggestion for the future: It's time to give up the whole gag of heroes and symbols being seated in the First Lady's box. (Skutniks, they're called.) It was fine the first time, but now it's just silly. Please, just get on with the speech.
See our biography of Barack Obama »