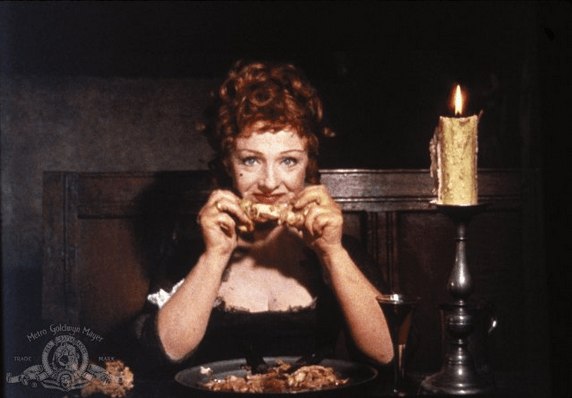 MGM Studios
Joyce Redman, a serious and top-quality Shakespearian actress who remains better known for the comically suggestive "eating scene" in the movie Tom Jones, has died at age 96.
As the New York Times puts it, Joyce Redman was:
"…probably best known to American audiences for her silent improvisation with a lobster, an oyster, a pear and Albert Finney in the exuberantly lascivious eating scene in the 1963 film 'Tom Jones'…

For better and worse, Ms. Redman's fieriness as an actress was most memorably on display in her portrayal… of the promiscuous Mrs. Waters, with whom Tom locks eyes in lusty communion as they devour one course after another in a crescendo of sexual anticipation. Haskel Frankel described it in The Times in 1981 as 'one of the funniest, most sensual scenes ever put on film without removing one stitch of clothing.'"
"Sensual" is going too far — it's more funny than erotic, and today's audiences may find it simply bizarre. (Though it might be fun to see Ryan Gosling and, say, Uma Thurman try the scene now.)
Let's go to the tape:
There's a double-freaky twist to the scene: the audience has been led to believe that Mrs. Waters may actually be Tom Jones's long-lost mother. Which is weird.
But (happy day) it ends up that they aren't related at all.
I rented Tom Jones on VHS years ago, having heard what an Oscar-winning classic it was. The things that made it daring in 1963 — bawdy jokes, actors talking to the camera, etc. — have long since become standard comedy fare. It's a fun little movie, but don't expect to be wowed.
As for Joyce Redman, she went on to win an Oscar as best supporting actress in Othello (1965, with Laurence Olivier and Maggie Smith). But you won't find much familiar in her filmography, unless you live in the U.K. One of her last roles was a small part in a Prime Suspect with Helen Mirren in 1995.
See the full Joyce Redman obituary »