Vulture.com catches up (sort of) with mysterious author Thomas Pynchon, whose new novel is Bleeding Edge.
Thomas Pynchon is often mentioned in the same breath as J.D. Salinger, both being famously "reclusive." It's been a good gig for both of them. They've both shown that one way to get plenty of ink is to refuse to talk with journalists.
And to refuse to have your photo taken? That's gold.
But the Vulture.com piece makes a point of saying that Thomas Pynchon is not a recluse. He's no J.D. Salinger, who made a point of hiding out in the same town while keeping his audience at arm's length (unless, say, that audience included a sexy, idol-worshipping teenager named Joyce Maynard).
No, Pynchon is out there, living comfortably in New York and walking down the street as if he's one of us. We just don't know what he looks like, beyond one well known photo, which Vulture.com even updated for their piece: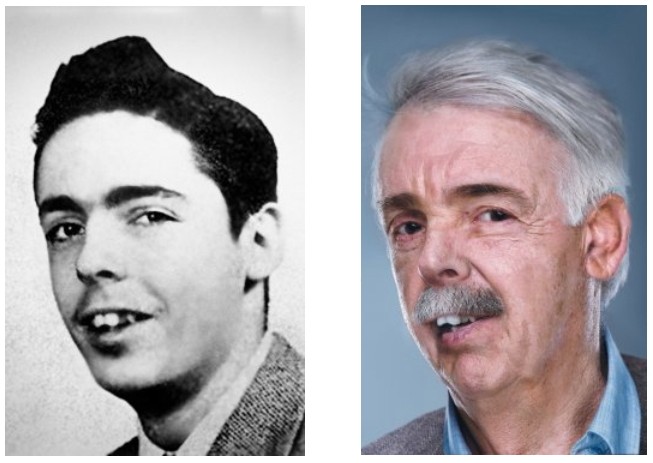 His new novel, Bleeding Edge, is also about New York, the New York of 2001, between the bust of the dot com bubble and the airplane attacks on the World Trade Centers.
The Vulture.com piece covers most of Pynchon's career, using stories from old pals, classmates and girlfriends. Even if you're not a fan of his fiction (and I'm not), it's a good (long) profile, in which Pynchon comes across as just a guy doing his own thing, not as some mysterious recluse.
How reclusive could the guy be, after all — he's guest-starred in The Simpsons:
The release of a his new novel qualifies as a literary event, and it sounds as though Bleeding Edge reveals Pynchon to be very much in tune with modern society, despite the fact that his first literary event was the publication of V, back in 1963.
For more background, see the Who2 biography of Thomas Pynchon.