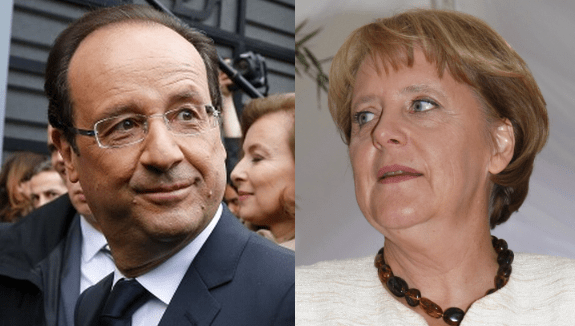 New French President Francois Hollande has gone to Germany:
"[Angela Merkel and Nicolas Sarkozy] became so central to Europe's debt crisis response that they were frequently referred to as "Merkozy"…

Though Merkel's a conservative and Hollande's a socialist, people are already now talking about "Merkollande" in hope they will be able to bridge their differences."
Excuse me, but "Merkollande" is lame. Hollande is a socialist, yes, but that doesn't mean the nicknames have to be bureacratic.
Why is the press not using the obvious nickname?
Francois + Angela = FRANGELA
If first names are verboten (those formal Germans!) what about one of Hollande's nicknames? As we
learned last week
, he is also called Monsieur Marshmallow due to his (formerly) pudgy shape and political presence. So…
Angela Merkel + Monsieur Marshmallow = MERKMALLOW
I personally prefer Frangela, but anything is better than Merkollande.