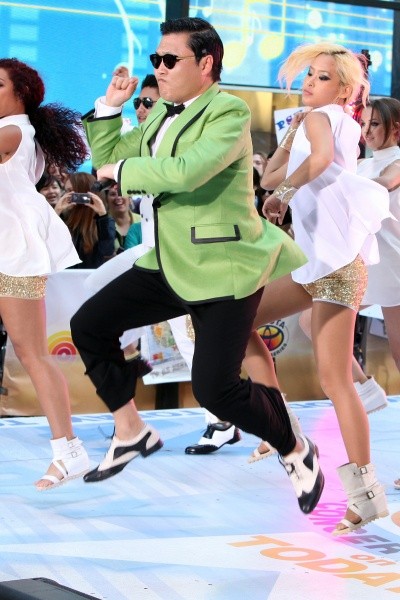 Our Psy biography is now live.
Who is Psy? He's the Korean pop star whose song "Gangnam Style" just became the #1 most-viewed video ever on YouTube. (The previous record was held by Justin Bieber and his song "Baby.")
Here are seven things you probably didn't know about Psy:
1) He was born in Gangnam. Psy's real name is Park Jae-sang, and he was born on New Year's Eve of 1977 in the affluent Gangnam district of Seoul. So his hit tune is a love letter (of sorts) to the neighborhood of his birth.
2) He dropped out of both Boston University and the Berklee College of Music. "Freshman for four years — class was too early for me," he says.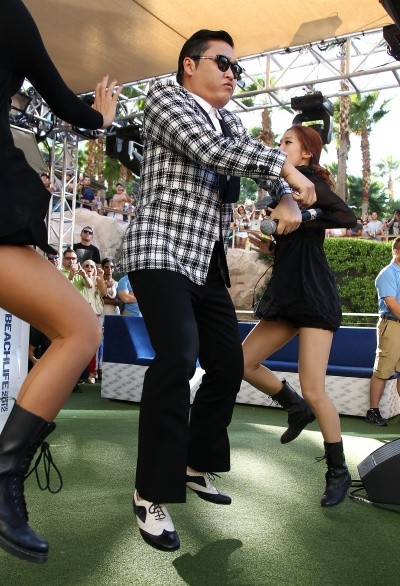 3) It took him a month to come up with the Gangnam horse dance. So he told the New York Times: "We are just at the studio, me and my choreographers, we are spending like 30 nights and we are thinking, what is my next dance move? Because in Korea there are huge expectations about my dancing."
4) He's not a newcomer. Not in South Korea, anyway: his debut album PSY… From the Psycho World came out in 2001, and his single "Champion" was a huge hit in Seoul during the 2002 World Cup.
5) He was sort of a draft-dodger. Psy got a special exemption from South Korea's mandatory military service in 2003 — he was assigned "alternative duties." But he failed to do even those lesser duties, and so he was re-inducted into active service in 2007 and had to do the whole hitch all over again. He was finally discharged in 2009.
6) He has twin daughters.
Psy
married
cellist Yoo Hae-yeon in 2006. Their twin daughters were born during his second military hitch.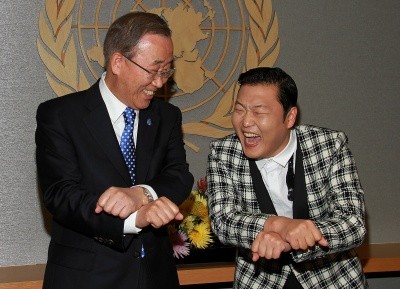 7) He taught his Gangnam moves to the U.N. Secretary General.
Psy
made a stop
at the United Nations in October and convinced
Ban Ki-moon
to
try out
the Gangnam "horsey hands."
"I'm a bit jealous," Ban joked during their meeting. "Until two days ago someone told me I am the most famous Korean in the world. Now I have to relinquish. I have no regrets."
In case you can possibly have missed it, here's the video that started it all:
Now see our full biography of Psy »