Peanuts creator Charles Schulz wrote flirty letters to a younger woman, even though he was married. Now they're up for auction.
Charles Schulz, known as "Sparky" to his friends, drew Peanuts for half a century. We all know Peanuts because it's STILL in the daily comics, a dozen years after Schulz died.
And since a biography in 2007, we've known that Schulz wasn't exactly Mr. Sunshine, but was instead plagued by self-doubt and other normal problems that people like to call his "demons" or his "dark side" and so on. If happiness is a warm puppy, it sounds like Sparky Schulz could have used a whole trainload of warm puppies.
Since last spring, we've also known about these "love letters" sent by Schulz to a woman 23 years younger, Tracey Claudius, in 1970 and 1971. They were on public display in Philadelphia's Space 1026 Gallery, courtesy of Tracey's daughter.
Now it's said that Tracey is in ill health, and a Sotheby's auction is hoping to fetch $300,000 or so for the letters. The auction takes place 14 December in New York.
The lot consists of 44 letters, including 22 drawings. And plenty of ooey-gooey, flirty-bordering-on-a-little-creepy pleas and reminiscences.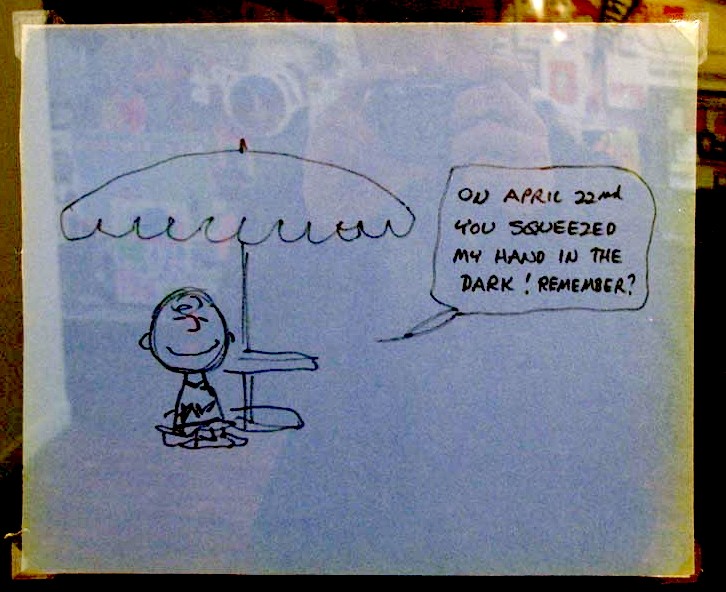 When Schulz was writing these letters, he was married and had five kids. He and his wife divorced in 1972 (he remarried in 1973 — to another woman who was also not Tracey). Although the letters indicate that his wife found out about his long-distance phone calls to Tracey, it's unclear why the Schulz's divorced.
Likewise, it's a bit of a stretch to assume that the letters are proof that Schulz and Tracey actually had a love affair. It could have simply been the sad yearnings of a middle-aged man for a young woman who admired him.
In any case, Schulz's five children are not happy about the sale of the secret letters, calling the public sale "tacky" and "crass."
Because it's absolutely terrible to make a profit off the personal effects of a famous dead person. Everyone knows that.