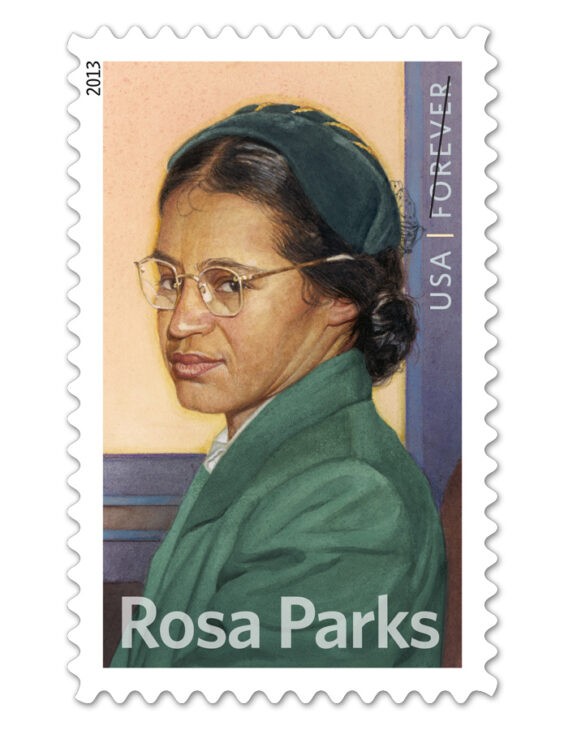 Rosa Parks has her own postage stamp.
The Rosa Parks stamp was released by the USPS yesterday, her 100th birthday. (She was born on February 4th of 1913 in Tuskegee, Alabama — yes, later the home base of the Tuskegee Airmen. And Booker T. Washington was still head of the Tuskegee Institute when she was born.)
The Rosa Parks stamp is gouache, not gauche:
The stamp art, a gouache painting on illustration board, is a portrait of Parks emphasizing her quiet strength. A 1950s photograph served as the basis for the stamp portrait.

The response to Parks's arrest was a boycott of the Montgomery bus system that lasted for more than a year and became an international cause célèbre. In 1956, in a related case, the U.S. Supreme Court affirmed that segregating Montgomery buses was unconstitutional.

Soon after the boycott ended, Parks moved to Detroit, Michigan. She joined the 1963 march on Washington and returned to Alabama in 1965 to join the march from Selma to Montgomery. The many honors Parks received in her lifetime include the Presidential Medal of Freedom (1996), the Spingarn Medal (1979), and the Congressional Gold Medal (1999). Upon her death in 2005, she became the first woman and second African American to lie in honor in the U.S. Capitol Rotunda in Washington, DC.
I had no idea she was the first woman to lie in state in the Capitol Rotunda.
Here's how Rosa Parks looked in 1955, the same era as the stamp image, with
Martin Luther King
in the background: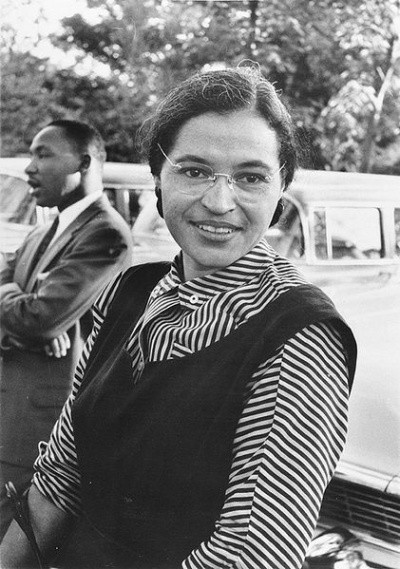 Nice likeness. The Rosa Parks stamp is by artist
Thomas Blackshear II
, who created an original painting for it. The art director was
Derry Noyes
, who has a
really cool job
at the U.S. Postal Service.
(P.S. to the postal service: love the Forever stamps.)