Sunday afternoon at the Tate Modern Gallery, Vlad Umanets defaced a painting by Mark Rothko. He told the press, "I'm not seeking attention."
The Mark Rothko painting Vladimir Umanets defaced is known as Black On Maroon, a title far more interesting than the painting itself. According to a witness, the culprit sat in front of the painting for a while before finally whipping out a paint pen and scrawling — as it turns out — "Vladimir Umanets, A Potential Piece of Yellowism." The witness tweeted a photo: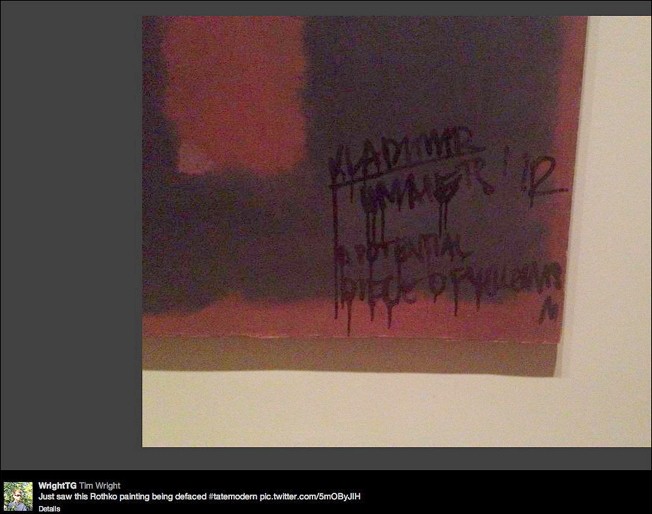 It didn't take long before the culprit was caught. After all, he left his name behind and he has a website all about "Yellowism."
Eager to chat, he told the U.K. press that Yellowism is "neither art nor anti-art." Umanets described it as being different from art, in that "it can't be presented in a gallery of art, it can be presented only in a Yellowistic chambers." Well, duh. Who doesn't get that?
On the one hand, Vladimir Umanets says "I'm not seeking attention" and "my intention was not to destroy or decrease the value, or to go crazy. I am not a vandal."
On the other hand, he's also said that he believes his defacement will only increase the value of the Rothko painting. And maybe he's right. Nobody exactly knows the value of the painting, since it's been part of an exhibition at the Tate since 1970. But other Rothko paintings have sold for millions of dollars.
The story behind this particular painting is that it is one of 30 painted by Rothko over an 18 month period, from a 1958 contract with New York's Seagram Building. Known as the "Seagram Murals," the paintings were originally commissioned to decorate the Four Seasons restaurant.
Rothko didn't like to show his work in the same room as other artists, and these large panels were meant to occupy one room. In the end, Rothko didn't like the atmosphere of the restaurant and backed out of the contract.
It's said Rothko spent three minutes painting Black on Maroon. I believe it. I've been to the Tate Modern Gallery and seen those Rothko paintings. Ho hum!
I couldn't help but chuckle at one online comment about the incident: "So, now that painting has a focal point?" If you're not a Rothko fan, it's a natural impulse to think that any defacement would be an improvement.
But, of course, vandal Vladimir Umanets, as a Real Artist in Concept Only, turns out to be just as much of a charlatan as Rothko. Apparently, for people to truly appreciate art, they need to understand the entire back story of the artist, his impulses, his (his!) desires, his problems, his pain, his vague intentions, etc. etc. It's simply not acceptable to go by the work itself.
It's the History of Western Art in a nutshell, otherwise known as The Tortured Artist Effect. Perhaps it's Affect?
At least Vladimir Umanets is being blunt about it: "it's all about ME."
But you don't need to go to a fancy art museum to demonstrate that. Just get yourself a reality show, dude! It's likely Vladimir has already been approached about this.
I hope they call his show I'm Not Seeking Attention.