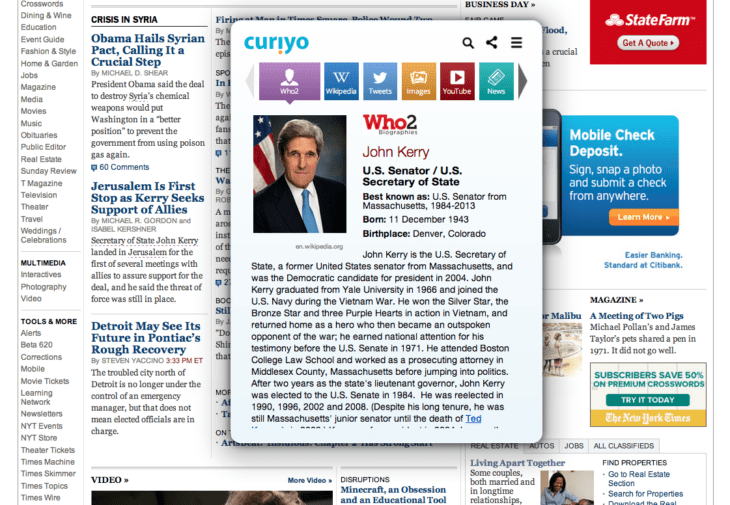 Curiyo is a brand-new reference tool from Bob Rosenschein, the web innovator who founded Answers.com years ago (and sold it for a handsome price in 2011).
Walt Mossberg, the Wall Street Journal's respected web guru, just reviewed Curiyo and said "I can recommend it, especially for readers like me, who tend to get interrupted by unfamiliar references and find it hard to continue reading without looking them up." Then he called it "a valuable and easy-to-use addition to Web browsing."
Heady stuff! (The Times of Israel is also on the case.)
In old-time terms, Curiyo is like having a stack of reference books next to your easy chair, so you don't have to get up and cross the room to look something up. Curiyo puts a faint dotted line under items and names (like
John Kerry
in the
New York Times
article above) and when you click the underlined term, the Curiyo box appears. There you can read articles, check news and recent Tweets, and generally bone up on the subject without leaving your original page.
You'll notice that the John Kerry data above is from a familiar, clever and widely-respected source. That's because Who2 is a data provider to Curiyo. We worked with Bob and his talented crew (including the ever-charming Diane Rosenschein) during their years at Answers.com, and always were proud of the relationship. We already feel the same way about being part of Curiyo.
Also, we hereby award bonus points to Curiyo for finding an available name and URL of only six characters that fits the product beautifully.