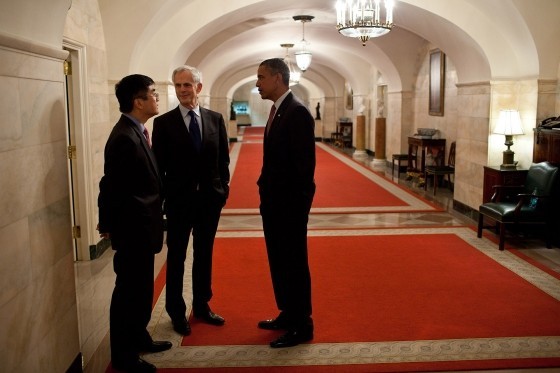 Secretary of Commerce John Bryson is taking a leave of absence to get treatment for his health, he has announced:
Bryson informed President Barack Obama that he was taking a medical leave "so that I can focus all of my attention on resolving the health issues that arose over the weekend," according to a statement released by the department. Deputy Secretary Rebecca Blank will serve as acting commerce secretary in Bryson's absence."
Besides his erratic behavior in the car crashes, Bryson apparently showed worrying signs while speaking at a high school commencement on Thursday:
On Thursday evening, in front of more than 1,000 people, Bryson urged Poly's 91 graduates to stay curious, to be good stewards of the world. But his passion and eloquence was tempered by mistakes and lapses, students and parents said. Several times, Bryson, a polished public speaker, appeared to lose his place in his remarks. He mispronounced words without correcting himself.
It seems to have been more than just nerves. Here's the text of the official announcement from the Commerce Department:
Tonight, U.S. Commerce Secretary John Bryson notified President Obama that he would be taking a medical leave of absence and immediately transferring his functions and duties as Secretary to Deputy Secretary Dr. Rebecca Blank. Effective immediately, Dr. Blank will become Acting Secretary of Commerce. Below is a copy of the memo to Deputy Secretary Blank.

June 11, 2012

MEMORANDUM FOR THE DEPUTY SECRETARY

FROM: Secretary John Bryson

SUBJECT: Transfer of Duties During Medical Leave of Absence

I notified President Obama this evening that effective immediately I am taking a medical leave of absence so that I can focus all of my attention on resolving the health issues that arose over the weekend. During the period of my illness, I will not perform the functions and duties of my office. Therefore, by operation of law, as my first assistant you will act in my stead for the duration of my absence.
See our John Bryson biography »