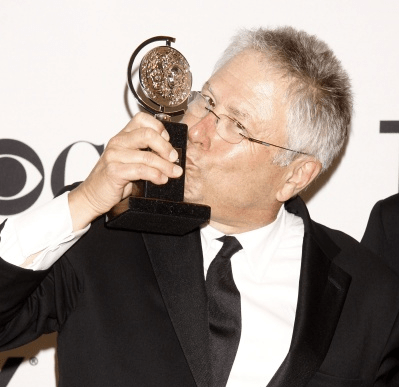 Who is the living person with the most competitive Oscar wins? Meryl Streep? Steven Spielberg? Edith Head, age 114?
Nope: It's composer Alan Menken. Our new biography of Mr. Menken is now live.
Alan Menken is in the news because he just won a Tony Award (his first) for the Broadway musical Newsies.
During his acceptance speech, Menken thanked "the generation of kids who adopted this movie" and noted that his daughters predicted he would win. He also referenced a previous Razzie Award he received for Worst Song for the movie version of "Newsies."

"I always found the Razzie to be sort of a badge of honor, quite frankly," Menken said later when asked about his speech. "I found out that I won the Razzie backstage at the [1992] Oscars, after I'd won my second Oscar for 'Beauty and the Beast.' I almost took it almost like a joke, like, 'Let's humble Alan Menken a little bit.' … I think it's fine, but it is interesting to see something that's famous for being ridiculed and not successful become something that's famous for being popular."
Alan Menken had a huge hand in revitalizing the Walt Disney animation franchise in the 1990s. He scored The Little Mermaid (1990), Beauty and the Beast (1992), and Aladdin (1993) — all major hits for the studio. All three were done with genius lyricist Howard Ashman, who died in 1991; they pair were so dominant that three songs from Beauty and the Beast were Oscar-nominated: the title tune (which won) plus "Belle" and "Be Our Guest."
Menken kept rolling. He won two more Oscars for Pocahontas (1996) and has been nominated many times since. His total of eight competitive Oscars is the most of any living person. (That's splitting hairs just a little: visual effects supervisor Dennis Muren has nine, but with six competitive wins plus three special and technical achievement Oscars. Both men have a ways to go to catch Walt Disney, who won 26 in all.)
Menken really should be tied with Muren in any case: He and Stephen Schwartz had three terrific songs nominated from the 2008 movie Enchanted, but they were robbed by that hideous treacle tune from Once. (Which play, incidentally, won eight Tonys on Sunday night.)
However you count it, Alan Menken now has a Tony, eight Oscars, and 11 Grammy Awards. All he lacks is the Emmy:
"Television is on my radar for other reasons, because it probably is the most popular medium right now as far as what people will see," he added. "Many of us have tried to develop musical TV series and things like that, so it's always been of interest to me, but as a lifestyle choice, it's a difficult one. I'm not sure how I'd have an opportunity to win an Emmy, but if it does happen, that's cool."
See our new biography of Alan Menken »