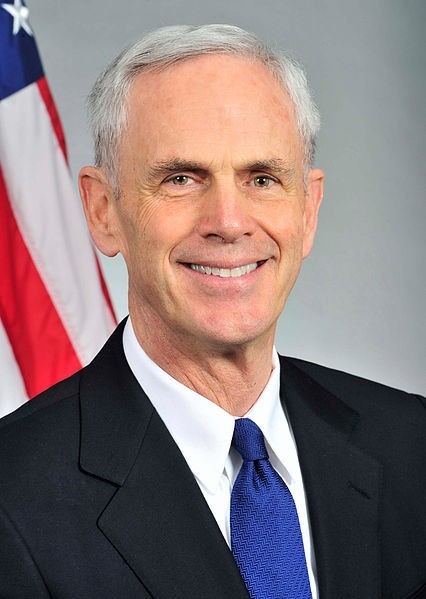 Does this man look like a hit-and-run driver?
U.S. Secretary of Commerce John Bryson was indeed given a felony hit-and-run citation on Saturday after two strange car crashes near Los Angeles.
A Commerce Department spokesman said today that Secretary Bryson had suffered a seizure.
Bryson rear-ended a Buick that was waiting at a railway crossing in San Gabriel about five o'clock in the afternoon. (San Gabriel is a suburb east of Los Angeles and south of Pasadena.) Bryson got out of his Lexus and spoke incoherently to the men in the car, then hit the Buick again as he drove away.
A few minutes later he hit a Honda Civic nearby. When police arrived, John Bryson was passed out at the wheel of his car. He was taken to the hospital and treated for non-life-threatening injuries.
"At this point in time, there is no indication that alcohol or drugs played a role in the collisions," police said in a public statement.
Bryson was cited for felony hit-and-run, said a police spokesman, but it doesn't mean that will be the final charge. The case will be "submitted to the DA's office which will make a determination on what they are going to charge him with."
John Bryson is 68. He had given a commencement address at Pasadena Polytechnic School on Thursday,
according to
the local paper.
Bryson is an unusual hybrid: both environmentalist and energy company CEO. He was a founder of the National Resources Defense Council, the powerful environmental group, in 1970. But he later was CEO of energy giant Edison International from 1993-2008. President
Barack Obama
named him Secretary of Commerce last year.