Posts tagged: Robert Bork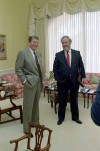 Robert Bork was 87 years old and had been not on the Supreme Court for 25 years.

Today is Robert Bork's birthday! Yay, he's 84 today.
It's also the birthday of Justin Bieber — he's 17. Yay!
Robert Bork, you may recall, became famous when he didn't get the job as an associate justice for the United States Supreme Court. President Ronald Reagan nominated Bork in 1987, but Bork was rejected by a vote of 58 to 42. He went on to make a decent living as "the guy who got voted down." He would add, "…and it was UNFAIR!"
Mr. Hehn has posted a new biography of Robert Bork.