Santa Clara County Coroner / NBC Bay Area
Artist Thomas Kinkade died from a lethal cocktail of alcohol and Valium, according to the official coroner's report from the Santa Clara County Medical Examiner's Office.
His death was an accident, says the coroner, Joseph O'Hara.  The official cause was "acute ethanol and Diazepam intoxication," Diazepam being the technical name for Valium. Ethanol is the active ingredient in good old drinking liquor.
The coroner also cited "hypertensive and atherosclerotic heart disease" as a significant condition.
NBC Bay Area broke the story last night; the official autopsy report is due today.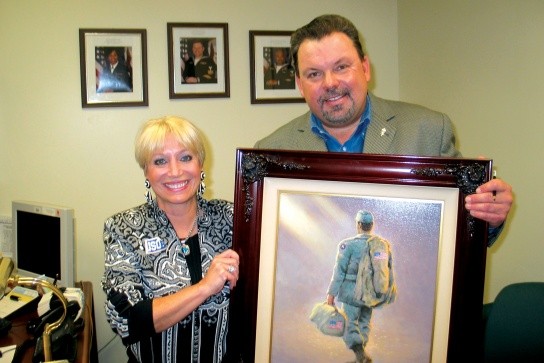 Thomas Kinkade in happier times, presenting a painting to the USO. (Dept. of Defense photo)
Thomas Kinkade died on April 6th at his home near Los Gatos, California; his girlfriend, Amy Pinto-Walsh, made a frantic 911 call late in the morning, saying Kinkade was in bed and wasn't breathing.
At the time, Pinto-Walsh told a reporter that Kinkade "had a heart condition." Which he did, according to the coroner's report. It was in the mix, but it wasn't what killed him.
See our biography of Thomas Kinkade »